If your life choices have ever demanded your living in a van down by the river, then today's Nice Price or Crack Pipe Previa might just make you homesick. We'll have to see whether or not its price just makes you sick.
A lot of you refused to get into the slow lane yesterday, at least not for twenty-two hundred bucks. That is a lot - A LOT - of moolah for a 1984 Ford Escort, and fully 57% of you gave it a Crack Pipe loss despite the killer combination of light brown paint, diesel engine/manual gearbox, and a longroof body. Tis sad, but true.
They say home is where the heart is, and if that's the case, then you might just heart emoji this 1995 Toyota Previa. That's because it's been converted to a home away from home - or maybe just a primary home, if you are, you know, homeless.
G/O Media may get a commission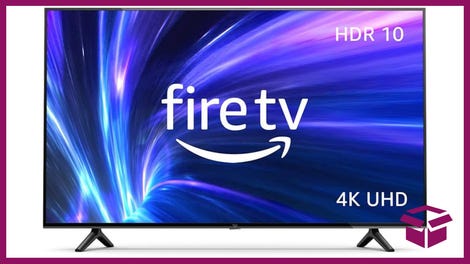 42% Off
Amazon Fire TV 50" 4K Smart TV
As we all know, Toyota's Previa is the uncontested weirdo of modern minivandom. Featuring a mid-engine layout with a four-pot mill laid over on its side like a lazy dog, the egg-shaped Previa was and is a funky island of idiosyncrasy in the Toyota sea of jejune monotony.
Add to that the fact that this one is an All Trac (all-wheel drive) with the supercharged engine (puff-puff), and you've got yourself one of the most interesting versions as well You'd probably want to have a look, right? Let's do just that.
With this particular Previa All Trac you can stop and look for as long as you like because it has been built-out to be a camper. The ad claims that the seller bought the van as an experiment - perhaps to put Schrödinger's cat inside it and then open and close the door really, really fast.
Probably not as the ad does explain that this Previa was intended as the seller's rolling home for an 8-month stretch. I guess it was intended to be like that movie Bio Dome, only thankfully without Pauly Shore.
The mods include a fridge, queen-size memory foam (ooooooh!) bed, stove, plywood pull-out rack/kitchenette, Thule Force Box, 100 watt solar panel, and a power generator for when you need to get your electrical on. The only thing missing is a place to put your poop!
It looks like its pretty well packed in there, and I'd guess this is more a couple's camper than a family fun zone owing to the lack of proper seating in the back now that it has the queen bed reigning in there.
It may also be a little tight as the reason given for the sale 6 months into the 8 month experiment is a need for more room. Despite that it is claimed to have been all over the western U.S..
That was made possible apparently by a number of mechanical maintenance items undertaken while in the present owner's hands - front seal, SADS bushings, plugs, etc. The ad says that with those updates the 218,000 mile Previa runs great.
On the down side are two factors - one, two people have been living in this for 6 months straight. That means you can probably cut the funk in it with a knife. The other issue is that it comes with a salvage title and as we all know many insurers won't touch that with a ten-foot actuarial.
If you can get past those issues then you might be interested in the price, which is $7,500 and apparently includes all the goodies except maybe the hipster beer. What do you think about this custom camper and its $7,500 price tag? Is that a deal to get away from it all while bringing some of it all with you? Or, does this KOA Camper's price make it DOA?
You decide!
Portland OR Craigslist, or go here if the ad disappears.
Help me out with NPOCP. Click here to send a me a fixed-price tip, and remember to include your Kinja handle.