Contrary to the modern ethos of tall SUVs taking the place of traditional wagons, today's Nice Price or Crack Pipe Country Squire hugs the road like it's a long, lost friend. You'll want to check out its price and see if that's as low as you could go too.
While we're at it, let's check off the boxes for yesterday's 1985 Volvo 760 shall we? Diesel? Yep. Turbo? Youbetcha. Manual transmission? Yeah, yeah, yeah. Looong-roof? That's an affirmative. Partially denuded interior and a custom dash/wiring loom under a patina of tetanus and death? Um, well, yeah… It may have been built for fun, but the mods went too far for its price, at least for the 65% of you who sent it down in a Crack Pipe loss, making it a certified no-vo.
Oh well, let's trot out another wagon, only this time with fewer mods and hopefully more interior. This 1978 Country Squire comes from the model's last year of being a big-ass boat. The following year the model would lose 10 inches in overall length and almost 7 inches in wheelbase, meaning this one's got an interior that's as big as, well, all outdoors.
Along with that reduction in size also came a diminution of engine options, the '79 offering only the 302 and 351 V8s rather than the cornucopia that was 1978. This one apparently rocks the 400, which was actually 402.1 cubic inches or 6,590-ccs to you metric-gnomes. That engine was factory set to 160-bhp and 319 lb-ft of torque, and that was apparently able to move the 4,757-pound behemoth to a top speed of over 101 miles per hour.
G/O Media may get a commission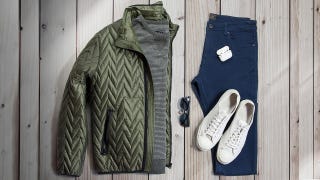 60% off
Jachs NY Fall Sale 60% Off
Not that you'd want to do that speed in this one as it's been modded for slow going seeing as it's been bagged. Yes, that means it could run at normal ride height, but why the hell would you want to? It's now a lead sled ready to spark its frame on the pavement whenever called upon, and that's a skill that's cooler that a shithouse rat.
Adding to the low-boy aesthetic are a set of new wide whitewalls on chrome-trimmed steelies that have been painted a sort of approximation of the car's mid-seventies mint hue. I mean, points for trying, right? Aside from those modest mods it appears pretty to be stock and is said to be free of rust having been a garage queen all its life.
This is an 8-passenger wagon, but the seller says he's had as many as fifteen in there which apparently ISN'T a Guinness World Record, dammit. There's also a roof rack for your bags - or additional bodies - if you're trying and beat that.
The ad notes a new carb and glass packs so it probably sounds good even if it's slow and handles like a toddler with a full diaper. As you might expect, pretty much everything in the car is power-operated, and anything that's not is wood grained .
What does all that cost? Well, in this case, the asking is $6,500. What's your take on this bagged boat for that much scratch? Based on the ad, does that seem like a deal? Or, is this Country Squire priced like a city slicker?
You decide!
South Jersey Craigslist, or go here if the ad disappears.
H/T to reskaas for the hookup!
Help me out with NPOCP. Click here to send a me a fixed-price tip, and remember to include your Kinja handle.