The compound word Prototype comes from the Greek prototypon which means primitive form. Today's Nice Price or Crack Pipe Alfa GTV is described as such a proto type, but is its price far from either pro or typical?
When it was completed, Tod Browning's 1932 film Freaks was banned from exhibition due to its lurid portrayal of actual physically deformed sideshow cast members. Many of those unfortunate souls - individuals like Pinhead, the Living Torso, the conjoined Siamese Twins, and James Carville - ended up as freak show performers due to the sad hand they were dealt, and, at the time, society's inability to fully embrace them in any other way.
Today, we as a society are far more accepting of those with physical differences, and that's why this heavily modified 1977 Alfa Romeo GTV should not be shunned due to its wildly non-traditional aesthetic. You have to remember, its looks are not its fault.
The GTV debuted in 1974 as the Alfetta GT, and shared that marque's at the time advanced platform. Engineered as front-engine, rear wheel drive, the Alfetta enjoyed excellent handling and balanced weight distribution, effected by a rear-mounted transaxle and de Dion suspension. Powering the '77 GTV was Alfa's legendary DOHC alloy four, by then punched out to two litres. Many parts of the Alfetta's driveline - guibos, synchros, etc - have proven over the years not to have been spec'd for their longevity.
G/O Media may get a commission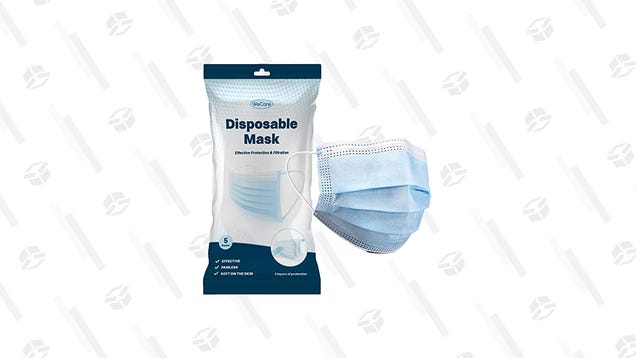 WeCare Disposable Masks With Elastic Earloops- 5 Pack
This one however is going the distance as far as body modifications go. First off, correcting an oversight from the factory, the builders of this Alfa have switched the car from coupe to roadster form with the removal of its roof windows and hatch. Taking their place is a rear wing that from some angles apes Acura's NSX and from others a church buffet table. Ahead of that resides a couple of hard-angled headrest nacelles and a roll bar apparently made from industrial plumbing.
It's below the equator where this car really seems to let its freak flag fly. One of the brand's enduring styling elements has been its triangular grille, which no Alfa should leave home without. This custom job has replaced that with a mesh off of. . . well, I don't know what, as well as lights from a Dodge Avenger and a bumper from a. . . honestly I'm not sure I even want to contemplate the source.
The back bumper is likewise a donation and sits above a pair of noisemakers and below a red reflector and fat later-model Alfa tail lamps. There doesn't seem to be room to mount a license tags, but if you did, WTFALFA would be a good choice for a vanity plate.
The interior looks remarkably stock, the GTV originally sporting the odd split binnacle that placed the tach front and center and everything else atop the center stack. The ad claims that the stereo system cost ten grand, which is a fact that speaks volumes about the priorities of this car's builders.
Your priority at present is to weigh in on this custom Alfa's $50,000 price tag. Yeah, that's right- fifty thousand dollars. Or, the present owner would gladly trade for a similar amount in gold or silver, indicating that he might just be a card carrying Freeman. What do you think, is this custom Alfa Romeo worth fifty thousand dollars? Or, is that a price that makes you totally freak out?
You decide!
Seattle Craigslist or go here if the ad disappears.
H/T to patd67 for the hookup!
Help me out with NPOCP. Click here to send a me a fixed-price tip, and remember to include your commenter handle