Today's Nice Price or Crack Pipe Lincoln could let you pretend to be a crime fighter like the Green Hornet only just a little farther down the visible spectrum. Let's see if this wild custom's price tag could be construed as a crime worth fighting.
Hello… 'ello… 'lo… 'o… Wow, the interior of last Friday's 1992 Plymouth Colt Vista AWD Wagon was sure huge, or in current parlance, "yuuuge." I for one, can't wait for that meme to be done.
That egg-shaped Colt on the other hand certainly wasn't done. In fact, from the looks of it, it was just getting started. That, the seemingly incongruous disparity between inside and outside dimensions, and its sub thirty-five hundred dollar price worked in the car's favor and earned it a solid 69% Nice Price win.
Heh, heh, heh, sixty-nine.
While Friday's ride was a pretty perfect family car, today's Lincoln looks like it would be more at home being driven by a lone stoic individual, or perhaps one accompanied by a loyal, and quite possibly Asian sidekick.
G/O Media may get a commission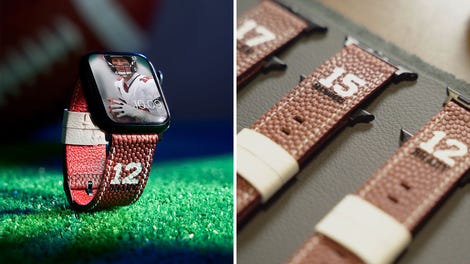 Official NFL PRODUCTS
Official NFL Apple Watch Bands
That's because this 1983 Lincoln Continental Mark VI has been customized stem to stern and in a way that is evocative of a nighttime crime fighter's wheels. That, or for a pimp.
Now the Mark VI makes for a great canvas for personal expression seeing as it's a body-on-frame design, and while Lincoln's first serious step towards downsizing, it was still an expansive one. Here you have a nose featuring a set of pointy prows, a grille opening reminiscent of a cartoon catfish, and headlamps off of a Ford Taurus. Out back the fins have also been exaggerated while the tail lamps have been traded for a single full-width Cylon eye.
Door handles, side markers and most of the trim has been shaved, but blessedly the half-landau vinyl roof has been left wholly intact. The whole thing (less the port-holed roof) has been sprayed in what the ad describes as "bright yellow diamond-flake" giving it the appearance of a delicious slice of lemon merengue pie. The work is described as having been done by the owner of a custom paint and body shop, it looks pretty tight. Wheels are many-spoke affairs with faux knockoffs.
You'll need a remote popper to get inside the car now, and once in there you'll note that the custom work stopped at the door jambs. It's all leather and plastic in there, just like you would expect from an '80s Lincoln, and nothing about which to get too excited or too miffed.
Under the massive yellow hood lies a 302 V8. These cars originally had an electronically-control throttle body fuel injection system which gave the Windsor V8 a herd of 129 ponies with which to play. This one has has trashed the TBI and replaced it with a good old fashioned carburetor. A four-speed Ford AOD with column shift backs that up.
The ad claims the car drives as amazing as it looks, which would be suspect if you didn't happen to like the way it looks. You do like the way it looks, don't you?
If the answer to that question was hell yes, then the next step is to take a look at the price and see if you like that too. The seller is asking $5,700 for this custom yellow land yacht, but of course, all the attention it will garner is free.
What's your take on this intriguing custom Lincoln and that $5,700 price, does that seem an equitable trade? Or, is this a Mark VI that's been too marked up?
You decide!
Washington DC Craigslist, or go here if the ad disappears.
H/T to Michael for the hookup!
Help me out with NPOCP. Click here to send a me a fixed-price tip, and remember to include your Kinja handle.