Pretty unique in the wagon world, GM's '70s clamshell rear gates on their full-size cars pretty much eliminated the tailgate party. This Nice Price or Crack Pipe Olds can still hold a whole party, but is its price anything worth celebrating?
The late John Denver used to thank God he was a country boy. That sentiment was not extended to being a Country Squire, or at least not to the extent of buying yesterday's dropped 1978 LTD wagon at its sixty-five hundred asking price. A decisive 54% of you told the seller to bag his bagged wagon, and it went down in a Crack Pipe loss, which was sadly the second of the week.
Speaking of the week that is, check out today's 1976 Olds Custom Cruiser and see if you can pick out a theme. Yep, so far this week it's been all wagons all the time. There's nothing I can do about it, these things just happen.
This wagon, which like yesterday's Ford, represents the pinnacle of Brobdingnagian body styles. Unlike that Country Squire this one appears to be blessedly stock. Now stock doesn't mean dull or diminished mind you, and everything about this beast is in your face Costco-quantity, fast food super-sized, John Holmesian huge.
G/O Media may get a commission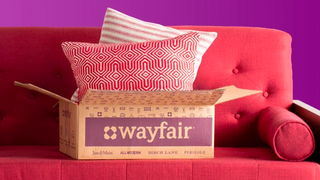 Big deals
Wayfair Surplus Sale
First off, the first generation Custom Cruiser is the first ever wagon built on Olds' largest chassis, the B-body. That's 'B' as in boy that thing is big. Sporting a 127-inch wheelbase and an overall stretch that measures a massive 231-inches, the 5,350-lb Custom Cruiser is potentially visible from space. If Rhode Island can be a State, so could this Olds.
Powering the Queen Mary, er, this Custom Cruiser is Olds' 455 V8, an engine that by '76 had been reduced to only 190-bhp. It still made over 350 lb-ft of torque so moving off the line shouldn't be an issue although any effort above a walking pace will probably end in frustration. A TH400 manages the power and ensures further restraint in performance.
But these things were never about getting anywhere quick, they were all about having room to roam even without ever leaving home. This is a true 8-passenger beast and unlike Dr. Who's Tardis is enormous both inside and out.
The interior looks a little more beat up than does the exterior, which seems to be in excellent shape. Inside, the carpet is kind of dirty and there is a fart-tear in the driver's cushion. There's also one of those superfund sites masquerading as a steering wheel cover. On the plus side, there's a Peterbuilt floor mat in there which is all kinds of awesome.
All that's missing on this Olds is a tree strapped to each side, but then the woodgrain appliqué on these GM boats always seemed like an afterthought, unlike say on yesterday's Ford. The price is $5,000, which, when considered by the pound or the foot, might seem to be a steal. What do you think, is that a good price for this old Olds? Or, is that too much cash to Cruise?
You decide!
St Louis (uh oh) Craigslist, or go here if the ad disappears.
H/T to Seth Faucett for the hookup!
Help me out with NPOCP. Click here to send a me a fixed-price tip, and remember to include your Kinja handle.