Today's Nice Price or Crack Pipe RAV4 is quite literally the Corolla of small crossovers, which might be both a good and a bad thing. Let's see if its price makes this crossover, cross-over to one side or the other.
"Excuse me sir, but your Ferrari is resplendent in its total beigeness," said no one ever.
Craigslist is the world's garage sale and while you will find treasure buried amongst the ads for dinged-up chipboard furniture and floorboard-less Plymouth Acclaims, it's not generally the place you'd go to find a fucking Ferrari.
Perhaps the reason yesterday's 2009 Ferrari California was hanging out on the Lista del Craig was because of its oddball Englishman in winter color scheme. That beige bombshell might have been cheap for a California, but its overwhelmingly bland hue and the model's general reputation for being the ne'er do well brother of the Ferrari family brought it down in a 76% Crack Pipe loss. I guess that was still far too much green for so much beige.
G/O Media may get a commission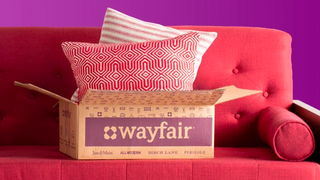 Big deals
Wayfair Surplus Sale
Now, had yesterday's California been as red as today's 1996 Toyota RAV4 perhaps its outcome would have been different. Speaking of which, you couldn't get much more different from a Ferrari than with a RAV4.
Toyota's little crossover rode the wave of similar cars that invaded the U.S. in the mid-nineties. Many of those - Chevy's Tracker, Daihatsu (gesundheit) Rocky, Suzuki Sidekick, etc - have fallen by the wayside while Toyota's stalwart wagon soldiers on, now on its fourth generation.

Present RAV4s are only available here as five-door wagons, however when they were first released on the market back in '95 they could also be had as a shorter wheelbase three-door hardtop. Additionally, a soft top edition of that was added to the lineup in '97.
This one is the three-door hardtop and think to yourself when was the last time you saw one of those? That factor alone takes it from mundane small family hauler to funky anime character that you'd stare at for hours because you're determined it also changes into a robot.
Add to that appealingly fly aesthetic the fact that this one rocks the equally rare five-speed stick and suddenly you're thinking about a RAV4 in ways you never thought you would. I know, it's confusing and kind of scary, but we'll get through it.
This red and black over grey plastic cladding RAV also rocks 190,000 miles but remember that underneath it's pretty much all Corolla and Nineties Toyota's are still considered the MREs of the automotive world. Aftermarket wheels (from Japan!) dress up the truck a good bit over stock.
If you live in Washington State you might even get to keep the RAV2 license plates presently on the car, and then can envy the guy that got RAV4 on his.
The interior comes in grey plastic—a LOT of grey plastic—along with jaunty blue accents. Everything looks to be in excellent shape and even includes an aftermarket stereo that let's you connect your vintage iPod or iPhone to it via a wire in the glovebox. Remember when people were doing that?
Under the hood there's a 120-horse 3S-FE four cylinder, and seeing as there's a blanking plate where the 4X4 switch goes I'd say this one is FWD only. Still, you wouldn't go four-wheeling in anything this cute, would you?
What you could do is take it out styling on the street, and to do that you'll need to either come up with the $5,000 the seller is asking or alternatively learn how to hotwire and live a life of crime.
Considering that we're only interested in the first option, what is your take on this cute ute and its $5,000 price? Does that seem like a deal for a rare and funky little car? Or, is it just not interesting enough for that kind of cash?
You decide!
Portland OR Craigslist, or go here if the ad disappears.
Help me out with NPOCP. Click here to send a me a fixed-price tip, and remember to include your Kinja handle.