With its Gulf livery and racing roundel you'd probably expect something interesting under the hood of today's Nice Price or Crack Pipe Ranger. What you wouldn't likely expect is a Mercedes OM617. I expect you'll weigh that shocking fact heavily in determining its worth.
Here's a fun fact, despite both starring ginger TV staple Ron Howard, and being a nostalgic look back at the '50s/'60s, Happy Days was not in fact related to the classic movie American Graffiti. Instead, the '70s TV staple, Happy Days, was spun off from the ABC anthology series, Love American Style.
Yes, you've probably never heard of either - and get off my lawn - but that doesn't mean that yesterday's 1958 Chevy Biscayne didn't generate a lot of love for its American style, coming away with a healthy 88% Nice Price win.
You may more likely recall Monday's uber-expensive Toyota truck and that its turbo four was a competitive answer to the V6 engines available at the time in the competing American mini-pickups. Back in the '80s those were eating into the market share of what at one time was purely import territory. In the case of the Ford Ranger that V6 was the brand's long-serving Cologne mill, which for years also did duty in Capris, Pintos, Mustangs, Bobcats, and a lot of the fancy Fords built over in Yurrup.
If today's 1984 Ranger once had such a V6 heart throbbing beneath its hood we wouldn't have much to explore about it other than its cheeky Gulf racer paintwork. Instead it has a Mercedes turbo diesel under that blue and orange paint, and hence we have much to discuss.
G/O Media may get a commission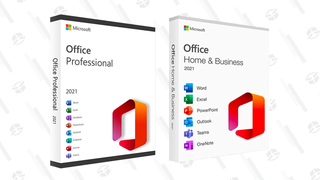 95% off
Cyber Monday - Lowest Price Ever - Microsoft Office Lifetime License
For those of you not up on your post apocalyptic survival guides the things that will endure unscathed are, in no particular order, Twinkies, the shame of being pantsed in junior high, cockroaches, the joke 'How did Hitler tie his shoes? In little nazis.', and of course, the Mercedes Benz OM617 five pot diesel.
Yep, the builder of this racer-themed Ford was just trying to assure the truck's survival. That Mercedes mill is claimed in the ad to have resided under the hood of a 1985 Benz which of course means that car is now doomed. Being an '85 the engine displaces 2,998-cc while power from the oil burner is factory rated at 125-bhp and 180 lb-ft of torque.
Along with the Mercedes can of marbles this truck also gets an also Swabian-sourced 4-speed automatic. One downside of that is the lack of a Speedo as while this truck may have originally come with a V6 built in Cologne, its dash doesn't presently speak this transmission's language.
The ad notes that otherwise this truck runs perfect, and along with the switched out mill it gets new brakes, a pair of fuel tanks, and new window seals. It's also 2WD just like the venerated racers for which it is hued.
That paint job on this truck is like the happy ending to a Groupon-cheap massage. It's the icing on the diesel cake. Not only does that look sweet, but so do the slotted mags, the fat-ass and jauntily-angled side exhaust, and the interior which has a bench seat, a dinky shifter and manual pretty much everything. There's just so little to go wrong here.
By now I'm sure that you've already imagined what this truck would look like in your own driveway, after all it's just that cool. Of indeterminate temperature however is its price, which is $4,500 in cold, hard cash. What do you think about that asking price for this amazing ride? Is that an amount that would have you saying diesel do? Or, is that price a warning of Ranger danger?
You decide!
Charlotte Craigslist, or go here if the ad disappears.
H/T to Axel-Ripper for the hookup!
Help me out with NPOCP. Click here to send a me a fixed-price tip, and remember to include your Kinja handle.