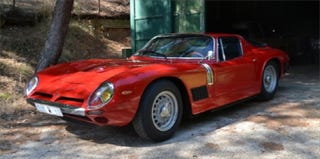 Nice Price Or Crack Pipe
Is this used car a good deal? You decide!
The incestuous relationships between the Italian super car makers in the 1960s is legend. Today's also legendary Nice Price or Crack Pipe 1967 Bizzarrini 5300 GT Strada is the offspring of that industrial interbreeding, but will its price require a vecchio amante danaroso?
Not only did yesterday's 1981 AMC Eagle have John Deere turning over soil in his grave, but its custom refresh and aspirational price also had 81% of you turning to the Crack Pipe button. It's too bad that the builder didn't choose a slightly lighter shade of green - or asked for a little less green - as it would have likely made for a killer border patrol ride.
Today's car is - a moment of silence, please - a Bizzarrini 5300 GT Strada. Chevy 327-powered, so low it could peek up an Amish woman's dress, and sexier than bikini models eating oysters, the 5300 GT is insanity incarnate. Its genesis however was none too pretty.
Let's re-cap.
Giotto Bizzarrini, born into wealth, and son of the man who helped Marconi make Clear Channel possible, was an engineer for Alfa Romeo and later Ferrari. Ousted in the 1961 Palace Revolt - which took place over, of all things, Enzo's wife, Laura - he went to ATS to develop F1 cars and the A.T.S. Serenissima road car. At the same time Bizzarrini was commissioned by ATS supporter, Count Giovanni Volpi, to rework his team's competition 250 SWB to GTO specs, which resulted in the creation of the infamous Drogo Breadvan. Meanwhile, Enzo Ferrari was moving beyond alienating senior staff to pissing off customers. One of those was Ferruccio Lamborghini, who decided that if he was unable to get satisfaction from Ferrari, he would build his own car. Lamborghini commissioned a V12 engine design from Bizzarini's engineering company which fulfilled the request with an all-alloy twelve that shockingly was considered too highly strung for Lambo!
Another Italian magnate, Renzo Rivolta - he of Isetta fame - retained Bizzarrini to craft a berlinetta based on the Giugiaro-penned Iso Rivolta GT, itself a riff on the precedent Gordon Keeble. Rivolta turned Bizzarrini on to both De Dion rear suspensions and the amazing power produced by Chevy's small block V8 - an engine that Bizzarrini praised as better than Ferrari's V12! The resultant Iso Grifo begat the Bizzarrini 5300 GT after the heads of the two companies suffered an irreparable falling out.
Okay, all caught up? If you want more detail of these Eye-talian soap operas, Google is your bitch.
This seemingly original 1967 Bizzarrini 5300 GT Strada is formerly from the collection of French Ferrari flogger, Jean Claude Bajol, and in fact does require a trip to frog town Marseille to collect. It is appropriately red over no-nonsense black, is one of 72 built, and is a two-owner car claimed to be one of only 7 imported into France. The 5300 sports a double wishbone front suspension and the unsprung weight-reducing De Dion in back.
The chassis is a stamped steel affair derived from the Iso Grifo AC3/C - and in fact the Grifo and the 5300 are essentially the same car. The Strada represented the street version of the 5300, with added interior appointments and such upscale fitments as ventilation and seat padding. Despite offering such luxury accouterments, the Strada also came with an engine that would turn the car into a guided missile. The Chevy 327 - common in Corvettes stateside at the time - sits so far back in the chassis that you might imagine the company employed Mike Tyson to pound each one into place. Topped by a non-exotic Holley 4BBL, the engine in the 5300 was tuned to produce anywhere from 365-400 bhp. Behind that small block is a Borg-Warner top-loader 4-speed, while Girling discs and recirculating ball steering complete the relatively simple mechanical checklist.
The engine and transmission intrude into the interior, which is dominated by a massive center tunnel and a ceiling designed for Marie Antoinette. Seats are back-killing buckets, while the dash offers the choice of full instruments or Italian Cypress for your viewing pleasure. It all looks original and and in reasonably decent condition, although far from concours.
And then there's the body. Sitting on a gorgeous set of center drive Campagnolo Europas, the Giugiaro-designed 5300's body is likely to cause paroxysms of pleasure in those who see it, and much like the interior, its 43.7-inch tall alloy bodywork appears a well-cared for survivor rather than that of a show-car. That body - holy hairy cat shit, that body - appears to tightly cloak the Bizzer rather than to sit atop it, and everything from its wrap-around windscreen to the Le Mans tail speaks of its 145 mph top end and ability to sprint to sixty in under six seconds. Like a leopard preparing to pounce, or Jwoww in spandex, it viscerally implies explosive potential.
Oh, and this one comes with a price tag of €320,000.
That's $444,000 in U.S. cash for those of you who think the Euro is about to become more useful as Charmin than coin of the realm. Who could afford such a nose-bleed high price? Well, celebrities of course. Should Rivers Cuomo buy it, it could be dubbed the Weezerrini, or Katty Perry could drive it as the Teaserrini. And of course being so filthy rich, Scrooge could have ghost ridden the whip in it as the Ebenezzerrini, although considering the era in which he was imagined, and the car's sub horse's ass height, perhaps not.
The question for all of you is not who could afford it, but if anyone should. That $444,000 isn't chump change and in fact, for probably 85-90% of the world's population, they could live off that for their entire lives. But, as many a politician avers, the answer to poverty is more rich people, so let's figure out if they should buy this car should one of those get rich quick schemes actually pan out. What do you think, is that damn-near half a million price tag a deal breaker? Or is this a Bizzarrini with a price that's none too bizarre?
You decide!
Anamera.com or go here if the ad disappears.
Help me out with NPOCP. Click here to send a me a tip, and remember to include your commenter handle.