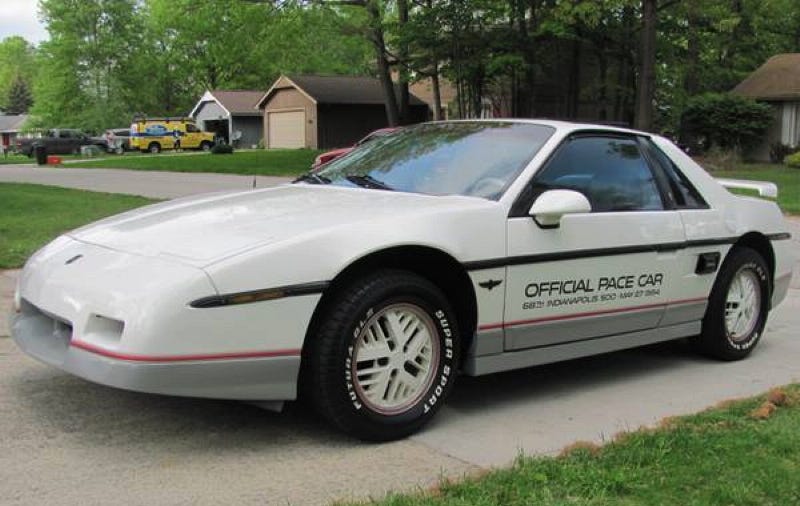 Nice Price Or Crack Pipe
Is this used car a good deal? You decide!
The Pontiac Fiero holds the distinction of being the only mid-engine car to pace the Indy 500 in the race's 98-year history. Today's Nice Price or Crack Pipe replica is in pristine condition, but is its price ready to set a sales pace?
Today is Memorial Day here in the U.S.. For those of you living outside our borders and unfamiliar with the holiday, it's a day in which we honor those who died serving our country in, most likely, kicking your country's butt. Yeah, we've been in fights with pretty much everybody - and we're not liking that stink-eye you've boon giving us, Canada, so watch your ass.
Actually, aside from putting up flags and watching some small town parades, the biggest events of Memorial Day are the BBQs and the cracking out of white shoes for summer. Oh, and there is also a little thing that goes down every year at this time known as the Indianapolis 500.
Indianapolis is located almost dead-center in Indiana and the 2.5-mile track sits just north-west of downtown. This year marks the 98th Indy 500 at the Brickyard - so called because of the three-feet of fired clay blocks set into the track at the start/finish line - and this year the race was paced by the 2014 Chevrolet Camaro Z/28, capably driven by three-time Indy 500 winner Dario Franchitti.
General Motors has a long history of cars that have paced the race, the Corvette alone having served as the pace setter 12 times since 1978. There have been many others from the General's fold, including some - the Buick Riviera (?), Chevy Beretta (?!) and Olds Bravada (?!!!) - that upon reflection were perhaps not the wisest choices.
One that survives such scrutiny however is the car that was chosen to run with the bulls in the 68th Indy 500 back in 1984. That car of course was the Pontiac Fiero which was both the brand's and the track's first mid-engine car/pace car. Sadly, it was also Pontiac's last mid-engine car, and thus far at least it has been Indy's too.
The pace Pontiac sported a bored-out edition of the marque's Iron Puke four cylinder, and that motor managed a respectable 232-bhp from its 2.7-litres. Few four-cylinder cars have ever paced Indy, and exactly none of the production replicas of the '84 Fiero pacer came with that hottie mill. Instead they came with the standard 92-horsepower yawner of a 2.5, and without the periscope scoop of the real deal.
This 1984 Pace Car Fiero comes so equipped as it has a three-speed automatic as well. One of only 2000 homage editions built, it sports only 113,000 miles and looks fresh as a daisy. The Indy replicas were built on top of the SE bodywork which included a dropped nose, side skits and a spoiler in back. White-painted snowflake wheels are set against a white over grey body with multi-hued striped separating the main colors. All the unique badging and decals denoting this as a special model remain intact.
The interior is just as clean as the outside, and comes in a bride's worst nightmare color scheme. The Fiero's pod-tastic dash remains just as '80s as it always has and you can either love it or leave it. Mechanically these cars were pretty mundane, the suspension and driveline taken - front and back - from the Chevette and the Citation. It wasn't until the '88 car that the Fiero really received some handling bona fides, but these early cars will do okay in normal driving situations.
The ad notes that out of the 2000 that were built, only 156 remain documented and registered. It's hard to say how accurate that is, even if the claim is made in all-caps. Whatever the total number of survivors, this one looks like one of the best examples outside of a museum and shows a lot of care having gone into it, including the maintenance items one would expect.
Yesterday's Indy 500 was won by (SPOILER ALERT) Ryan Hunter-Reay in what was an RCH-close finish with Helio Castroneves hot on his heels. If someone wanted that kind of Indy excitement everyday they could own their very own piece of Indy history, and this Fiero seems like a piece. Of course, that'll only be if they have the $3,800 the seller is asking.
What do you think about this pacer Pontiac for that kind of money? Does $3,800 put this Fiero in the winner's circle, and its new owner chugging cow juice? Or is this and Indy pacer whose price puts it off the pace?
You decide!
Akron-Canton OH Craigslist, or go here if the ad disappears.
Help me out with NPOCP. Click here to send a me a fixed-price tip, and remember to include your Kinja handle.