Old Volvos never die, they just fade away. Well, that's not exactly true, they do actually die - sometimes horrible, painful deaths. That's what makes today's Nice Price or Crack Pipe 760 diesel such a unique survivor. You'll just have to decide if its price makes it to die for.
The seller of yesterday's 2-door 4Runner wanted to show its off-road bonafides so non-ironically he took his pictures for the ad off-the-road. It's that kind of innovative and effective selling tactic that should get someone buying that tidy little truck. Of course, the 76% Nice Price win it garnered will no doubt help too.
Hey, are you into cars that will last forever, and might just take that long to get you places? If so, you are going to love this 1987 Volvo 760 GLE sedan because it's both a Volvo and a diesel.
G/O Media may get a commission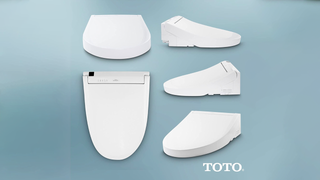 44% off
Toto Washlet Electronic Bidet Toilet Seat
Well, it may not actually take forever to get places as it is a turbo diesel. That mill is a Volkswagen straight six - the D24T - which offers up 2,383-ccs and about 115-bhp and 150 lb-ft of torque. That's not a lot, but then it should prove adequate to move the 760's approximately 3,100-pounds with reasonable alacrity. And anyway, what's your hurry?
Helping here is a 5-speed stick, allowing you total control over ratio choice - that is, as long as your interpretation of total means selecting from the 5 ratios available. A three-pedal Volvo isn't all that uncommon, but add to that the oil burner under the hood and you've got yourself sort of a rare bird.
This one seems to be a pretty good looking one too. The grey paint appearing outstanding in the pics and bodywork showing only a prolapsed rear valance as evidence of any kind of significant use. Stock alloy wheels as well as front fog lights that both point in the same direction add to the impression that this 107K car has been well taken care of.
The interior is equally nice, featuring beige leather both front and rear, and an upholstery pattern that might make you feel like you're sitting in Bibendum's lap in any of them. Yes, the dash does have a carpeted cap, which typically indicates cracks beneath, and almost always fits like The Donald's toupee, but that's a minor issue.
The ad says that the A/C blows cold and that the car is super clean. It also touts current tags and a clean pink on-hand, which of course is about as desirable as a clean hand on pink, if you know what I mean.
Tinted windows, remarkably low miles, a five speed, and a can of marbles under the hood, this old Volvo seems to have it all. No, it's not a wagon, nor is it brown, but I think considering what it is, we can all overlook those minor transgressions.
We can't overlook its price however, as that's what we're here to not overlook. The seller is asking $3,500 and yo now need to vote on whether you're down with that, or think he's nuts. What do you think about this turbo diesel sedan and its $3,500 asking? Is that a price that means it won't take forever to sell? Or, is this 760's price making you do a 180?
You decide!
Los Angeles Craigslist, or go here if the ad disappears.
Help me out with NPOCP. Click here to send a me a fixed-price tip, and remember to include your Kinja handle.