While the idea of fixing or maintaining a Ferrari in your own driveway may seem laughable, today's Nice Price or Crack Pipe 328 is possibly the last model that a shade tree mechanic could realistically tackle. If you're up to the challenge its up to you to say if some Ferrari DIY is worth this car's IOU.
Lacking only that elusive third pedal, yesterday's barn-find 1970 Datsun 510 managed to pull off a respectable 72% Nice Price win. That car was like a virgin canvas ready for anything from a simple sorting out to a full-blown restro job. For its new owner, the world will be his or her oyster.
Speaking of virgins and oysters, is there any better way to pick up some Redditors unsullied maidens than with a pearl white 1987 Ferrari 328 GTS?
G/O Media may get a commission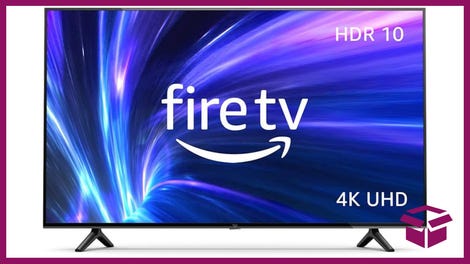 42% Off
Amazon Fire TV 50" 4K Smart TV
The 14 year model run of the 308/328 series represents the longest of any of Ferrari's road-going models. By comparison, 365 GTC/4 production spanned but two years and a mere 500 cars. With over 12,000 308 GTB/GTS models built, and a further 7,400+ 328s, this singular body style also represents Ferrari's most ubiquitous.
While today's white targa roof may be able to boast a plethora of siblings it's still not so common a sight that - in the words of Samuel Langhorne Clemens - you can't swing a dead cat but hit one. And that's only one of the 328's advantages.
The 328 - either in closed GTB or, like this car in open roof GTS form - are considered by many to be the perfect entry into Prancing Horse ownership. That's due to the cars being both relatively simple and surprisingly robust. These are cars that have been favorably compared to Porsche's 911, a contemporary, for their cost of ownership and reliability.
One place where seemingly all Ferraris from the mid-seventies on do require special attention is in the regular replacement of their timing belt.On the 3,184-cc, 260-prancing horse Tipo F105CB there are two. Each of those follows a sinuous path from a mid-block pair of intermediate shafts up to the cams atop the 4-valve heads. This needs to be done every 5-years or 15,000 miles or you run the risk of turning your Quattrovalvole into Quasimodo.
This 97,000 mile car (and yes that's an impressive number for a Ferrari) has recently had its timing belts and related hardware replaced so it's likely good to go for a while at least. The extremely well detailed ad - seriously, this guy should write Craigslist ads for a living - notes additional recent work to the cooling system and a pretty good history that should relieve any concern about past owner intransigence or the car really being a Fiero.
Aesthetically the car appears about as nice as you could want for a driver. The interior has new leather on the seats and what's original seems completely serviceable. Some concern may be raised by the note that some of the dash lights are not completely secured due to "repeated removals." Huh? Why were they removed repeatedly?
Other areas of concern are the not quite broken targa latch, a rear boot lid that's recalcitrant to close, and A/C that blows, but not cold. All of these issues are ones that could be easily fixed by the new owner if they have even a modicum of mechanical ability, even the A/C, which likely will need to be retrofitted for R134a, but even that's pretty doable on a 328 because a lot of engine work can be accomplished with the mill in the car.
One final issue with the car is its white paint job, which unless you're dead-into linen suits over pastel tees you might find to be kind of a letdown.
Whether or not that is so may affect your opinion of this handsome Ferrari's $29,000 price tag which is on the lower end of the spectrum for such things. What do you think, does that price Crockett your Tubbs? Or, is this a common Ferrari with an uncommonly high price?
You decide!
Central New Jersey Craigslist, or go here if the ad disappears.
Help me out with NPOCP. Click here to send a me a fixed-price tip, and remember to include your commenter handle.