Have you ever wanted a Corvette but found it lacking in luxury appointments and saddled with too plebeian a brand? Well then, today's Nice Price or Crack Pipe Caddy XLR-V might just be the car for you, that is if its price isn't found to be wanting.
The second best bit from HBO's Silicon Valley is the idea of "Billionaire and Millionaire doors." It's one of those rare comedic tropes that will likely find its way into real world use, it's so spot-on.
Yesterday's 1998 Olds Silhouette may have had a supercharged Pontiac V6 under its nose, and may have been in laudably decent shape to boot. None of that however, overcame its inherent minivan-ness, dropping it in a 58-percent Crack Pipe loss. I guess its sliders weren't even thirty-five hundred dollar doors.
The doors on today's 2006 Cadillac XLR-V are what Silicon Valley's Russ Hanneman would deride as "Millionaire Doors," but it has a third portal—an aluminum retractible hardtop roof—to somewhat make up for that inequity. These cars were in fact one of only two hardtop convertibles GM offered in the U.S. in the decade past, the other being a Pontiac G6. Both cars are now dead, and the G6 took its entire brand with it.
G/O Media may get a commission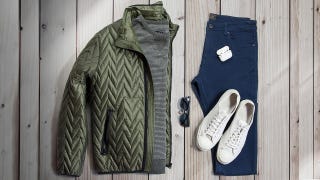 60% off
Jachs NY Fall Sale 60% Off
Before all that happened however, Cadillac built a Corvette, or to be more pedantic about it, Bowling Green built a Caddy. The XLR was based on the C6 Corvette convertible platform, albeit with its own "Art & Science" angular body, a more upscale interior, and the aforementioned retractible roof. Over the course of its nine model year run, Cadillac managed to move only about 15,500 of them.
That wasn't for lack of trying, and one of the coolest things they tried was to amp up the XLR's jam with a performance-oriented V model. V had already established the CTS as a romper stomper, and Caddy hoped that it would do the same for their Corvette in Christian Dior.
The XLR-V got a 443-bhp edition of the marque's Northstar V8. That LC3 engine was designed for RWD action, and featured a roots style supercharger with intercoolers worked into the intake manifold. A six-speed 6L80 automatic transaxle gets busy with those ponies out back.
At over $110,000 new, the XLR-V was at the time one of GM's most expensive products. This one shows that depreciation and age can make any man a king.
There is just a hair under 100K on the clock, and the car seems to present decently in its eBay ad. The seller says that the "Cars body and moratorium are in great shape," and that it comes with four new meats on its factory alloys. The silver paint seems to hold a shine, and there's no appreciable wear on the interior, which it should be pointed out was one of GM's finest a decade back.
If there's anything to be called out here it's that the Zingana wood trim (yes, that's real wood) looks to have some issue on the center console. It may be a trick of the light, but it looks like there's liquid spilled there. What's up with that?
Were these perfect cars? No, not by a long shot. There's too much cowl shake with the top down, they handle well but not great, and they're remarkably complicated meaning that consumables like shocks and tires are going to set you back when needing replacement.
Despite that, the XLR-V represents an interesting point in Cadillac's long search for self identity, and one that makes a pretty impressive visual statement doing so. The question is, would you pay $22,500 to make it?
That's the price for this one, and it comes with a clean title for your trouble. What do you think about this XLR-V and that $22,500 price, does that seem like a deal? Or, does that make this an XLR you'd X-out?
You decide!
eBay out of Maryland, or go here if the ad disappears.
Help me out with NPOCP. Click here to send a me a fixed-price tip, and remember to include your Kinja handle.