We're starting off Nice Price or Crack Pipe this week with a Volvo diesel wagon that's a stripper, but the kind you might take home to mom. The seller says that she can really dance, but you'll need to decide whether its price demands shouts of take it off!
I did the Oculus Rift thing at the year's LA Auto Show Volvo exhibit during the media sneak peek a couple of weeks ago. They plopped headphones on my head and a stereoscopic TV screen over my peepers and then proceeded to build a new XC90 around me. It was at the same time both totally creepy and sublimely Swedish.
The new XC90 - the real deal, not the virtual one - is a pretty nice ride, offering a look that's reminiscent of Porsche's Cayenne, only a little more staid, and pretty much every bit of cutting edge safety tech that the company could throw at it.
What it's not, is unapologetically boxy, and for that I would keep on keeping' on with my quest for the ultimate Volvo as I like 'em as rectilinear and classically stylish as an Ikea bookshelf - even if there's some assembly required, Sven.
G/O Media may get a commission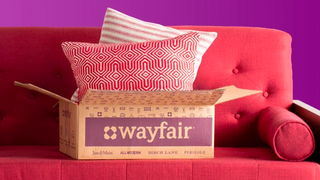 Big deals
Wayfair Surplus Sale
This 1985 Volvo 760 wagon is more my cup of lingonberry tea, and in contrast to the necessity of most Ikea furnishings, this turbo diesel, 5-speed longroof had some disassembly required. The seller says that his vision for this rough and ready wagon was to make a solid gymkhana star and engaging daily driver, all balled up into one. That took some heave-ho-ing of much of the car's unnecessary weight
There's not much on this car that hasn't had something removed from it, done to it, or made funkier, and that starts with the mill, which is the 2,383-cc VW T24D. That turbo diesel has been further fortified with a Ford SVO scroll and an intercooler from a Toyota Supra. The ad notes that it smokes on hard acceleration, but otherwise runs strong.
Behind the six pot rattler there's an M47 5-speed and power is sent back to a 3.31 rearend. The suspension has been stiffened and imbued with Bilsteins up front and Koni Yellows in the back. A set of Volvo basketweave alloys keep the tires from rolling away.
The thing of it is, those are some if the car's least impressive mods. The seller has stripped out the interior, including the dash. He's also re-wired the car although according to the ad only half the gauges are hooked up and working. Supra seats add a little comfort to the otherwise spare and bare interior, and will keep you from sliding around. On the outside, there's a few different colors going on in case you're indecisive as to which you like best, and a metal plate in the car's head takes the place of the sun roof.
Why would the present owner sell so unique and personal a project, especially one that seems to have consumed so much of his time and money? Well as is usually the case in these instances, he claims that he has too many projects and hence must let this one go. His loss is your gain, yada, yada, yada.
Okay, who cares why he's selling it, let's just focus on the buying. The price is $2,950 and the seller says that money talks so he may not be too confident in that number. What do you think, is this crazy diesel wagon stripper worth that much slipped into its G-string? Or, is that too much cash to make it rain on so personal a ride?
You decide!
San Antonio Craigslist, or go here if the ad disappears.
H/T to Alexgrantham for the hookup!
Help me out with NPOCP. Click here to send a me a fixed-price tip, and remember to include your Kinja handle.