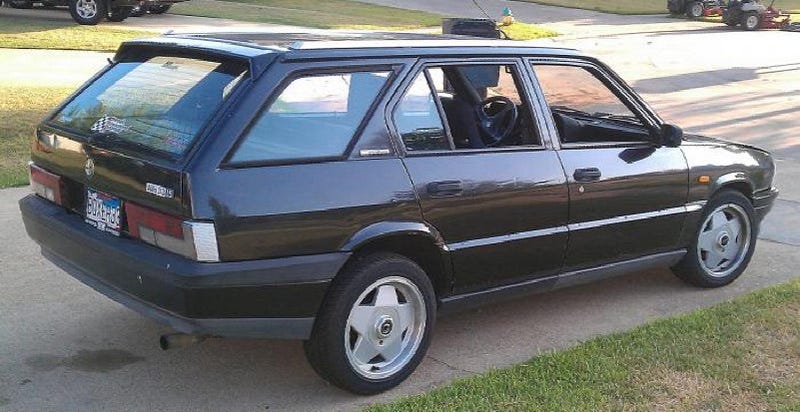 Nice Price Or Crack Pipe
Is this used car a good deal? You decide!
The number 33 appears, unexplained, on the side of Rolling Rock beer bottles. It's also the name of both Alfa's gorgeous 33 Stradale and today's Nice Price or Crack Pipe 33 Sportwagon. The latter can better the Stradale in carrying home cases of Latrobe's finest, but should it also carry a lower price?
Nobody knows beer like the Germans, and in fact, it's almost time to get your lager on at Oktoberfest. What better way to get there (rochambeau-ing over who gets to be designated driver for the trip back) than in a sweet 1987 BMW 535is? If you were to make the trip to the beer garden in yesterday's candidate, you could do so safe in the knowledge that 76% of your commentariat friends and neighbors felt its price was Mary Poppins nice.
Italy is less known for their beers, but you can still get a cool quaff locally there, one of the better artisanal brews being 32 Via dei Birrari. Why, that's just one away from Rolling Rock's mysterious '33', which is also the model name of today's 1983 Alfa Romeo Sportwagon. Coincidence? I think not.
Alfa's 33 derived from the Alfasud and sported that car's boxer four engine and front wheel drive, the same layout as most Subarus before that company went all four-wheel drive-y. The 33 was styled in-house by Alfa Centro Stile's director, Ermanno Cressoni, and both this car and the 75/Milano show evidence of his aesthetic appreciation. When the time came to extend the range to include a wagon however, Alfa handed the task over to the penners at Pininfarina. The cars were welded together at Alfa's plant in Pomigliano d'Arco, down in Italy's ankle.
The Alfa 33 was never ever officially imported to the U.S. and the number of cars that have arrived here by private invite can probably be counted on one's individual digits, without the need to even remove a shoe. This one was brought over from Germany in '09 by its current owner, and being more than 25 years old is of little interest to the DOT or EPA. It'll still be persona non grata to the CARB so those of us living in the Golden State will need to just sit on our hands this time. It is apparently currently tagged in South Dakota, however that state is like the attic where America keeps all its crazy aunts.
A pair of shiny, rebuilt Dellorto 33s (there's that number again) sit atop the 1,490-cc boxer and should provide hours of entertainment for the next owner keeping them in sync. The seller claims that the 1-2 shift is graunchy which may mean a trip to the Internet to see what a set of synchros would set you back. He says it's an Alfa tradition, but I'm not so sure. Other than that, the car is said to have been a daily driver, amassing over 7,500 state-side miles, so things like brakes, lights and wipers must be at least passably working, which is all one can ask of any of the Milanese car maker's products.
The bodywork has some issues, apparently suffering at the hands of someone who didn't abide by MC Hammer's admonition that you can't touch this and actually did touch it - with a ball-peen hammer. The seller just so happens to have an extra hood and fender on hand, so don't worry about having to slip those parts in the overhead on an Alitalia non-stop. There's another small dent in the hatch - possibly hammer time's parting shot - but the rest of the car looks okay.
Inside, there's a nice leather-wrapped Nardi steering wheel, and a pair of duct tape-wrapped Konigs in front. These look like ass and, like a creepy college roommate who stays up all night staring at you while you sleep - they need to go, fast. A stolen milk crate might be a more attractive substitute. Contrastingly, the back seats look stock, and do the 50/50 fold down thing. According to the odometer, this 33 has done 68,000 kilometers, and over that distance it seemingly has failed at the primary task Alfa Romeo sets for all its cars - resolutely oxidizing into a cloud of dust like a vampire on a tanning bed.
Alfa never chose to compete with the legions of small family cars the Japanese seemed able to turn out like origami cranes, and that probably was a wise decision. The tenuous hold your typical Alfa maintains on usable functionality seems an acceptable trade-off to those who value the cars' driving acumen and sensual shapes. For those seeking point A to b conveyances, and who thus gravitate to Corollas and Sentras, perhaps not so much.
But that just means you're going to stand out like a cioccolato cannoli in a punchbowl driving this 33 - as the seller makes the claim its possibly the only sportwagon edition on these shores. Of course, exclusivity comes with a price, and in this case, that price is $2,500. Keep in mind that buys you not only the cool little Alfa wagon, but also a boot-load of spare body parts and a couple of boxes of things with Italian writing on them. What do you think, is this extremely unique in the U.S. Alfa worth that $2,500 asking price? Or, for this boxer-powered 33, is that a TKO?
You decide!
alfabb.com or go here if the ad disappears.
Help me out with NPOCP. Click here to send a me a tip, and remember to include your commenter handle.