Meinhardt Raabe, who died last year at age 94, played the Munchkinland coroner, and certified that the Wicked Witch was 'really dead.' It's not inconceivable to imagine the flamboyantly dressed character buying today's Nice Price or Crack Pipe custom Escort wagon to cart away the witch pancake, but is it priced so high that he might come up short?
There are several truisms which are wise to abide - don't spit into the wind is one, don't eat yellow snow another, and one that gets bandied around here with regularity is never buy someone else's project car. That last one seems to hold sway for many of you regardless of whether it is in reference to a JATO-equipped bar stool or a basement-built Lamborghini Countach.
And today, we're going to check that platitude at the door, and are going to seriously consider someone else's project. That's because today's 1997 Custom Escort Wagon is so weird, so unique - so dubba-you to the tee to the eff, with a big ol' hairy question mark hanging off the end, that it cannot be left unconsidered.
Sure, you might not personally see yourself driving a lowered, shaved and padded roof-equipped Escort, and now that Gary Coleman is R.I.P. its raison d'etre may be in doubt, but you can't deny the genius behind building what from the outside appears to be a hearse for those of limited stature, and inside, a visual screener for epilepsy. Plus imagine all the dead hookers in the trunk jokes that an Escort hearse would engender.
G/O Media may get a commission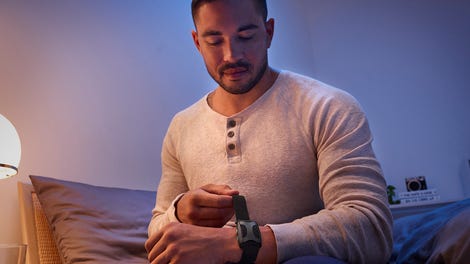 In 1997 the escort was available with a 110-bhp 2.0-litre OHC four that performed like 60-grit sandpaper. Available transmissions were a Mazda-sourced five speed, or an overdrive four-gear slushbox. As you might expect, this Escort sports a hearse shifter rather than a Hurst shifter. It also has been lowered on its wheels of many spokes and all of the glass with the exception of the windscreen and front doors has been covered with black canvas - a look that is just screaming for a set of landau bars. Most hearses have an extended door on the right-hand side, and a sliding drawer which allows the casket to be pivoted out through the door and then carried off to the dance. This Escort goes that one further by having the passenger side front and rear doors fused together into one giant opening. That makes getting in and out when squeezed into a parking space challenging, but when otherwise unencumbered, it provides an exceptional vista of the green striped custom interior.
Those of you familiar with the ovoid, Taurus-inspired interior of this generation of Escort won't recognize the place, so thorough a transformation has been wrought. Typical of custom cars, this one has been built with a killer stereo system in mind, although it is being sold with the Helen Keller option as a sound system of any kind is neither seen nor heard. That leaves the sonic aspect of this custom a blank canvas upon which the buyer can paint any color of KRACO or DUAL sound equipment.
The rest is complete, and done up in a green velour thats a hue and pattern not necessarily found in nature. The whole thing might require a strong stomach in order to be ensconced within as it is pretty disorienting. In the back, where you would expect to find some sort of coffin (it's not the cough that carries you off, it's the coffin they carry you off in) there's a box for kickers instead. Up in front, the seats have diamond cut outs in their backs, and the passenger seat has a PS1 in its squab that you'll have to explain to unenlightened riders is not a munchkin-sized toilet, lest someone try and set forth the flying monkeys from their butt in it.
The Escort has 103,000 miles on it, which is pretty miraculous for an Escort, much less one that a hole the size of Oz on one side of it. The seller says that door, as well as the other and the starter all work by remote, there's some neon lights inside, and that everything short of the missing stereo works. He also admonishes serious inquiries only in the ad, which seems somewhat incongruous considering the presentation of the offering, especially considering what looks like a bullet hole in the massive right-hand door.
While the claim is made that 30K has been invested in this custom, and that it has appeared in Low Rider magazine, the price is only $2,300. Now that's a lot for a '97 Escort - hell, like ten times too much a lot - but that's pretty cheap for a car with such major modifications. But is it a good price? Now, remember we left the whole 'nother dude's project cautionary at the door, but that doesn't mean we left our common sense. So what do you think, is this hearse-like custom Escort worth $2,300? Or, would spending that much be a grave mistake?
You decide!
eBay or go here if the ad disappears. H/T to R_Shackleford for the hookup!
Help me out with NPOCP. Click here to send a me a tip, and remember to include your commenter handle.