Today's Nice Price or Crack Pipe Cressida is a one-owner time capsule with a Supra engine up front and two wipers out back. You're unlikely to find another so original an example, and as you might expect, that's gonna' cost you.
JURASSIC PARK EXPLORER! WE'VE GOT JURASSIC PARK EXPLORER HERE! (crickets) See, nobody cares. In fact, yesterday's 1994 Ford Explorer, while wearing a thin veneer of movie magic, wasn't nearly close enough a homage to account for its ten-grand price tag, and it fell in a massive 84% Crack Pipe loss.
So it's been all wagons this week. That's not a bad thing, right? And while it hasn't been a steady climb, I'd say they've been getting better as the week has dragged on. Monday's stripper Volvo was a low point according to most of you, while the Ford and Olds naval fleet that followed allowed many of you to wax nostalgic for days gone by. And of course who doesn't love the thought of Jeff Goldblum mashing on the lovely Laura Dern inside yesterday's Explorer?
We're going to close the book on this week with what may be the best of the bunch, this nine-thousand mile 1987 Cressida wagon that looks so new I'll bet it still has some Oh What a Feeling left in it.
G/O Media may get a commission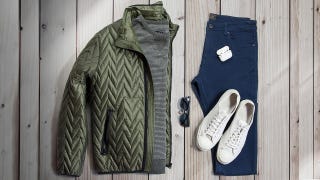 60% off
Jachs NY Fall Sale 60% Off
The 5th-generation Cressida was Toyota's top-tier ride prior to the company launching Lexus here in the States, and it had pretty much everything you could want as far as '80s accouterments went. This one is of course the wagon model so it's not just swanky, it's utilitarian as well.
Power for the Cressida this year came from a 156-bhp edition Toyota's 5M-GE inline 6. That's 2,759-ccs and comes with double over-head camshafts for its paltry two valves per cylinder. Behind that is the car's standard equipment 4-speed automatic transmission, and the car is both independently sprung and in possession of a disc brake at each corner.
Inside, there's plenty of color-coordinated plastic and sturdy cloth- all in decadent burgundy. Nothing here seems to have seen much in the way of age-caused degradation. On the outside the story is much the same, the paint remaining lustrous and all the trim (mudflaps!) appearing in evidence.
In fact it's so clean that the seller claims in the ad that 'THE PICTURES IS NOT THAT GOOD. THE CAR IS PEFECT.' Of course, nobody's perfect, but to get this close obviously costs some bills. In the case of this Cressida that's a pretty substantial $19,500, or about what a new mid-level Corolla would cost.
That Corolla won't have a sweet DOHC inline six or rear-wheel drive of course, and so perhaps this blast from the past would be the better choice. after all, it has those two wipers on the back glass! What do you think, does this Cressida look to be worth $19,500? Or, for that much, is this a time capsule best left closed?
You decide!
New York Craigslist, or go here if the ad disappears.
H/T to Carl Dreibelis for the hookup!
Help me out with NPOCP. Click here to send a me a fixed-price tip, and remember to include your Kinja handle.