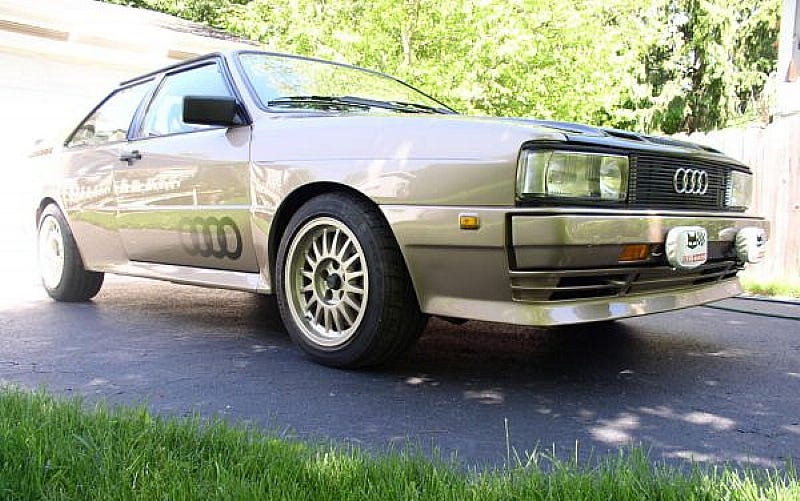 Nice Price Or Crack Pipe
Is this used car a good deal? You decide!
Audi's Quattro takes its name from the fact that it is able to spin all four of its wheels. Today's Nice Price or Crack Pipe 1983 Quattro may be one of only 664 cars ever officially spun over to the U.S., but will its price make your head spin?
In German, Ur approximates to primitive, original or first. It often is used to mean the initial iteration of something - like Rambo, Ur Blood Part II or today's 1983 Audi Quattro coupe, which was the first of the four-ring brand's cars to rock AWD. And, if Wikipedia is to be believed, it's also the first production car to mate a turbocharged engine with four wheel drive.
The Quattro was introduced in 1980, and it took three years for Audi to figure out that Americans like turbos and AWD too, finally deciding to send the rally-bred coupe our way. Turns out, while we like 'em we don't so much want to buy them, and in its four years on the market here, only 664 Ur-Quattros managed to move off dealer lots.
This happens to be one from that first year, and as such it should be powered by Audi's 10-valve 2,144-cc five cylinder engine. Should and are being two very different things, this Gobi Beige Quattro is in fact rocking the later 2,226-cc DOHC 20V five, a mill never offered on a U.S. Edition.
Other noteworthy mechanical upgrades on the 97,000 mile car are Porsche brakes, a 4:11 rear diff, Hank Iroz intake, and RS2 exhaust and injectors. All in all, the car has seen some sensible updates that should enhance its unique personality rather than alter it.
Cosmetically, the Quattro looks to be in fine shape, but of course a cursory exam of the rockers and door edges is advised as this is an Audi, and they do rust. That's unlikely here, and the extensive build pictures evidence no road rot at all. They do show a fresh coat of paint and appropriate Audi logos and decals however. The only questionable piece here is the Sport model hood which is overly slat-happy. In front of that, the Euro lights do improve the car's looks over the former rectangular sealed beams.
Mods to the body have been limited to a bumper tuck on each end and the aforementioned hood and headlights, while the interior gets a few updates, including a steering wheel that's a kick in the Nardis. The seats and dash are also said to be new to the car, and the dash has a cool ABT pod on top for some extra gauges. These were originally designed to sit atop the dash - when fitted to the lessor 80 - for a taxi meter. Quattro owners lamenting the replacement of the center console triple gauge cluster with a diff lock indicator added the taxi pod to give room for the necessary dials. On this car it's both period correct and way cool looking.
A lot of effort has gone into this car, and while it's far from original now, it feels like it has been modded with respect for the marque's venerated history. The Ur Quattro is a rare sight here in the U.S. and opportunities to buy one come few and far between. The price for this one is $19,000, and the seller warns that he's not interested in entertaining tire kickers so that's probably pretty firm. But should it be?
What do you think about that price for this Quattro, is $19,000 for this updated car a deal? Or, is the thought that it's over priced the Ur thing that comes to mind?
You decide!
Chicago Craigslist, or go here if the ad disappears.
Help me out with NPOCP. Click here to send a me a fixed-price tip, and remember to include your commenter handle.