Metallica playing with the London Symphony and whiskey paired with vanilla ice cream are just two examples of things you might not think go together, but actually do. You might add to that list today's Texas-located Nice Price or Crack Pipe 2JZ-powered Wrangler- as long as its price is equally well matched.
Do you ever wonder if the Japanese all woke up one morning to find each and every one of their 2JZs missing? You know what I mean, the engine bays of their Soarers, Crestas, and Chasers suddenly empty, as though visited by an automotive grinch, angered by the Toyota mills' causing too much fun?
It sometimes seems as though that is the case considering how many of the iconic DOHC straight sixes have ended up across the Pacific. Not only have they changed continents but they almost without fail end up under the hoods of American-resident cars and trucks that typically you'd never envision enjoying such a heart transplant.
Can you think of what iconic American vehicle would likely be the last place a car grinch might hide his stolen 2JZ? That's right, that would be in a Jeep Wrangler, and that's because these rougher than Russian toilet paper Jeeps are all about the low rev rock hopping and not the amyl nitrate infused heartbeats of a 2JZ.
G/O Media may get a commission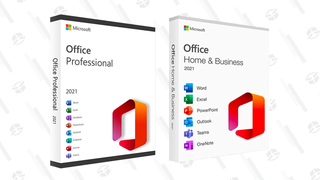 89% off
Microsoft Office Professional 2021 Lifetime License
Regardless of the incongruity of the install, this 1997 Jeep Wrangler has been given just such a Toyota engine injection. It now - at least according to this video - makes tire burning its main hobby.
The engine is in fact a 2JZGTE which is the twin turbo edition which originally made its home under the hoods of Toyota's Aristo and Supra models. Her, the custom double snail pressure package pokes through the hood of the Wrangler, accommodated by a ramp-down hole that obviously gives little consideration to rain, road debris, or errant pigeons. From the pics, it seems to have already eaten a windshield wiper.
Horsepower? Yes! The turbos are a Borg Warner S372 and Holset HX35, and those blow through a 'Greddy style' intake. The whole thing is said to have been professionally installed with a custom bell housing and engine mounts. The seller says the engine was 'freshened up' but he might as well have said that he rubbed a cat on it for all the information that provides.
The transmission is from a Jeep V8 - which should make it a 5-speed - and the rear end is welded so don't plan on daily driving this thing without a line of credit at the tire store. Speaking of tires, the ones on it now are new Yoko-Onos and those wrap around some deep dish Mickey Thompsons.
Inside, and there actually is an inside as this Wrangler comes with a hard top, there's a quartet of Acura RSX Type-S bucket seats and an STi Gauge cluster. The ad notes that the cabin is heatable but that cooling is limited to opening the windows.
The body comes with fresh red paint and Rubicon flares and looks pretty badass with the exception of that hood which one of those things that makes you hmmmm. No mileage is provided, but the truck is said to come accident free and with a clean title, so it's got that going for it.
I don't know about you, but I like this Jeep a lot. Oh sure, the first thing I'd do is carve that pumpkin, but other than that, it's the kind of freaky that if it where a girl, you sure as hell wouldn't take her home to meet your mother. I'm not however sure I love its price however, which is $18,000.
You now need to say whether or not you love it, as it's time for the vote. What do you think about this 2JZ-powered Jeep's $18K price? Is that something that you think somebody ought to wrangle? Or, is this custom Jeep to expensive to keep?
You decide!
Dallas Craigslist, or go here if the ad disappears.
H/T to The HighwayStar and DBG for the hookup!
Help me out with NPOCP. Click here to send a me a fixed-price tip, and remember to include your commenter handle.