The problem with exotic cars is that they generally cost an arm and a leg to buy and maintain. Today's Nice Price or Crack Pipe Lotus Esprit fits the exotic bill, but do you think you'd also lose your ass buying it?
As I see it, the biggest problem with last Friday's 1971 Lincoln Continental Mark III would be trying to find a parking slot big enough to fit it in this day and age of wafer-thin "compact slot" parking lots. I hate those skinny slots even for modern cars as it makes getting in and out of anything wider than a vespa an exercise in doing the horizontal limbo. Seriously, screw those guys!
Other than its immense size, I don't think there was anything seriously wrong with that cool Connie, and 68-percent of agreed that its price wasn't a problem either, as it took home a Nice Price win.
Here's something that will blow your mind—there's only one year separating Friday's Lincoln, and the first appeance of today's car, a 1993.5 Lotus Esprit. I know, jaw, meet floor.
G/O Media may get a commission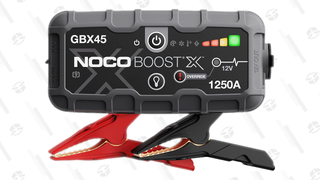 13% Off
Noco Boost X GBX75 Jump Starter
The last year of the Lincoln Mark III was 1971 as it was replace by the girthier MK IV the following year. The Esprit remarkably, made its debut in show car form at the Turin Motor Show one year later in November of 1972. The production edition of the Esprit would have to wait another three years to show up, debuting in October of 1975 for the '76 model run. It would however, remain in limited production for the next 28 years.
Over that time, little more than 16,000 Esprits would eventually leave Hethel, and one of those was this black over sand '93.5. Okay, I know what you're thinking: why does he keep calling it a '93.5, that seems oddly pedantic. In this case we need to be because the '93.5 cars are unique and special creatures, a U.S.-only model that melded an S3 base with S4 bits. That means a revised interior with bigger pedal box, body-colored lift-up exterior door handles, carbon fiber trim on the dash, and a larger—but not S4 larger—rear wing. To add to the confusion, this particular car is a late 93.5 as the window controls are on the console not the doors.
What else is there to note about this car? Well, the engine is a 2.2-litre DOHC four that's turbocharged to the tune of 264 highly strung horses. Those are made by way of an air to water intercooler and all the magic happens right over the driver's shoulder, and exits by way of a Renault-sourced five speed transaxle. The chassis is a steel backbone affair derived from the precedent Europa, and features front suspension bits that can trace their lineage back to the venerable Triumph Herald.
The ad claims this Esprit to be in excellent condition. That's perhaps a stretch as I've never come across an Esprit—even brand new—that was in excellent condition. Okay, so we'll take that with a grain of salt and accept that this car is in excellent for Esprit shape. It certainly looks it in the ad. The milage is a modest 43K and the car does exhibit some wear in the fiberglass body and RRIM end-caps. Still, there's nothing untoward about it, it just looks like a decent hobby horse.
The interior is likewise tidy, showing only minor wear. I wouldd like to know about that wire hanging down under the steering column. What's that all about? You might also notice in that interior pic that these cars are not easy to enter or exit owing to the lowness of the design and the extension of the dash over the end of the seat. If you happen to be a woman who who favors mini skirts it's advised to wear the proper day of the week underpants when out and about in the car.
Other issues with the car and noted in the ad include headlights that actuate on separate schedules, a sagging driver's door, a stereo that's crapped out, and a driver's side window motor that's feeling its age and Lucas-ness.
On the plus side, the seller says he's just put $4,500 in repairs into the car and has maintained it in proper fashion during his tenure as owner. Notably that includes a recent timing belt change so you should be good for another five years or 20K.
If you wanted to take the plunge into that long-term a commitment in exotic car ownership then the asking price you'd need to meet is $17,000.
That's right, for about the same out the door as a VW Jetta S, you could be rocking a freaking Lotus Esprit, and a fairly rare 93.5 model to boot! What do you think about that price for this car as presented in its ad? Do you think this Esprit is worth $17,000? Or, does this car's price put you out of your Lotus position?
You decide!
Houston TX Craigslist, or go here if the ad disappears.
Help me out with NPOCP. Click here to send a me a fixed-price tip, and remember to include your Kinja handle.