When it comes to lady boobs, McLovin IDs, orgasms, and crab meat, fake just doesn't cut it. Well, maybe the boobs do, I'll get back to you on that. Today's Nice Price or Crack Pipe Porsche Speedster REPLICA on the other hand looks to be a cut above, but you'll still have to decide if its price does too.
Day-tona, Daaaaaaay-tona. Daytona come and I wanna' no buy. Not even the specter of Carroll Shelby - embodied in the C/S logos adorning its flanks - could save yesterday's survivor 1989 Daytona AGS from a 56% Crack Pipe loss. I guess for its asking price, it would have needed to be an even more special K.
The 356-based Speedster has become one of Porsche's most iconic, venerated, and desirable models, and today they command big bucks. Quick, engaging, and a blast to drive, you might ask, how much more Porsche could the original Speedster be? The answer of course is, none. None more Porsche. The funny thing about that is that the Speedster wasn't even Porsche's idea.
G/O Media may get a commission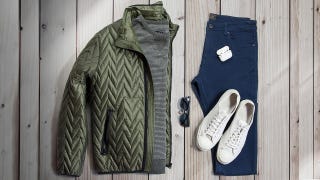 60% off
Jachs NY Fall Sale 60% Off
While extraordinarily dear today, the Speedster was originally envisioned as a stripped-down entry-level model, and was the brainchild of American importer extraordinaire, Max Hoffman. The Austrian-born car dealer had previously suggested that Porsche build a proper roadster which would offer weight savings and hence improved performance. That car became the '52 America.
With rakish bodywork by Glaser, the America didn't prove popular at all, and the model was discontinued after a year. Hoffman however was undeterred and seeing the success of cars like Triumph's TR2, suggested once again that Porsche offer a stripper model that would provide more bang for the buck than the more feature-laden cars. That car became the Speedster, and a legend was born.
It should be noted that Max Hoffman was responsible for just about every iconic special model that came out of Europe from the fifties to the end of the sixties, including the Mercedes Benz 300sl, Alfa Romeo Giulietta Spider, BMW 507, and 2002tii. I know, did the dude ever sleep?
Today, every single car in which Hoffman had influence is a collector's item, including Porsche's Speedster. Few other than the Speedster however, have had quite so many homages made in their likeness.
This car is said to be titled as a '69 VW - yay, 12 volts - and nicely, on the outside is a pretty faithful replica of a stock 1600 Speedster, and not one of those goofball ones with the wide fender flares or - god help us - a whale tail. The seller says that it is currently registered in his name, but that he's still awaiting the title from the CA DMV. Hrrmmmm....
The ad notes that the car's source of manufacture is unknown and honestly it could have come from any of dozens of companies, as the building of fiberglass Speedster knockoffs has over the years rivaled selling oranges at an offramp for ways not to get rich quick that still seemingly people attempt. One of the best of those is the Intermeccanica, but I think they build their cars on a proprietary platform.
The car is powered by a dual-port (VW) 1600, backed up by a four-speed stick. That should be good for performance that's as period correct for as is the body. Disc/drum brakes will likewise provide a vintage stopping experience. Mechanically, there's not much else to these cars worth mentioning, although I guess I could point out that this engine has an alternator, which the factory didn't fit on Type 1s until sometime in '73.
The bodywork and trim both appear complete, as does the interior with its tiny vinyl-clad buckets, triple gauge dash, and natty Nardi wheel. On the not so hot side, the dash pad shape is incorrect, as are the door trims and their exposed screw mounting. Perhaps most egregiously, the massive snood on the hand brake looks wrong, and detracts from the vintage vibe. A low-slung top and side curtains are apparently included for weather protection, just like on the real deal.
That real deal, were it as nice as this, would set you back somewhere in the neighborhood of a quarter million these days. Driving something that expensive kind of takes all the joy out of the experience if you ask me, which you didn't. Even Speedster replicas aren't coming cheap these days, typically commanding somewhere in the range of $25,000 to $35,000 depending on the quality of their build. This one, which except for the interior, looks pretty reasonable in the pics and it has an asking price of $15,000.
Fifteen large to look like Dylan from 90210? Well, hopefully a little taller, but still a richie rich? That seems like a bargain, doesn't it? Well, doesn't it? Uh oh. What do you think about $15,000 for this Speedster replica, is that a small price to pay to get the Porsche experience? Or, as that too much real cash for too little real car?
You decide!
Malibu CA via The Samba, or go here if the ad disappears.
H/T to Zack for the tip on the Brubaker Box that had sadly already sold, but which led me to find this!
Help me out with NPOCP. Click here to send a me a fixed-price tip, and remember to include your commenter handle.