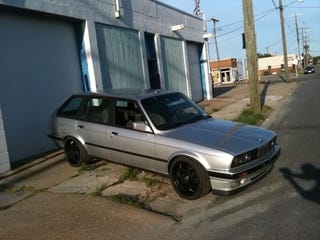 Nice Price Or Crack Pipe
Is this used car a good deal? You decide!
In the 2009 flick Splice, two scientists discover that their monster's new genes make her ass look stingy. Today's NIce Price or Crack Pipe E30 Touring is also a piecemeal affair, but at least its DNA is all BMW.
If you spent your hard earned money on a ticket for Splice, you have my sympathy. That cinematic butt nugget is further proof that Adrien Brody is traversing his career path in reverse, and that Sarah Polley is Canadian. The movie's basic plot of DNA manipulation to create something that never existed in nature has been a Hollywood staple for decades, and is equatable to what many a car enthusiast does in creating the personal declaration of their automotive ideal. That was the case with yesterday's contender, however while that 429-powered Ford was considered to be a Fairmont, its price kept it from being a Great-mont, a fact reflected in the 67% Crack Pipe vote. Today's E30 is likewise an experiment in genetic manipulation, taking the parts from other Beemers in the fabrication of something that never existed before, but that now could exist in your garage.
This 1988 E30 Touring first off represents a body style we never managed to officially get in the U.S.. There's a handful of them that show up for sale here from time to time, having been individually bagged and tagged, but they're few and far between. Now, the E30 is beloved by BMW enthusiasts and boxy car lovers alike, and the five-door touring is no less lovely than the coupe, convertible or sedan. The fact that you'll likely not see another outside of a Beemer show just adds to its interest, and if that were all this car had to offer, it'd be worth a look.
But that's not all this Autobahnstormer has under its metallic silver paint, it also rocks a fire-breathing 2,990-cc s50b30 out of an E36 M3. The seller says it's the 286-bhp euro version, rather than the 240 pony U.S. Mill, but either way that's a damn fine motor. He also claims that there's a ZF box of indeterminate status backing up that silky six, and a 3.25:1 LSD rear end out of an M Roadster putting those ponies to the pavement. The front end has parts likewise sourced elsewhere, in this case an E36 M3 just like the motor. Cosmetically the car looks pretty good, although the black-painted m-contour wheels are a mtter of personal taste. The driving light-equipped front lip off of an 'is' (yes, yet another BMW model) visually balances the added mass of the wagon back. Underneath there's a Speed TV ad block of aftermarket brands represented, including Koni shocks, TC Kline coilovers, Treehouse Racing lollipops, and IE adjustable camber plates.
The seller has been much stingier with the pics than he has with the parts, and while he says the interior is the gray sport cloth, as he doesn't share a snap, we don't know how bad the rips in the seats are, or for that matter, how many miles are on the car. Of course, I guess you'd have to specify which car you were talking about when contemplating miles, as there are so many represented here.
Getting that many cars for a single price usually means clearing out some old fart's back field full of iron with trees growing through them. In this case, they're all conveniently rolled up into one easy to transport package, and one that's probably pretty damn fast too. So what would it cost to get a basket full of Beem? Well, the seller of this Touring is willing to take $11,000 for you to take over its ownership. He says it's legally licensed in NY - a state that shares California's penchant for strict auto emissions - so that's a good sign. Another good omen is that, while this car has been built up from a multitude of parts, none of them, with the exception of the motor, are all that rare here and if anything needs to be replaced, parts should be easy to find.
So what's your take of this eleven grand estate? Is that a price that make you think about adding your own DNA to its driver's seat? Or, are its genes not worth that much green?
You decide!
e30tech forums or go here if the ad disappears.
Help me out with NPOCP. Click here to send a me a tip, and remember to include your commenter handle.