If you want to Passat the dutchie on the left-hand side then you're going to need all the help you can get. Today's Nice Price or Crack Pipe TDi wagon has a 6-speed conversion, which should help plenty, but does that make its price something you'd pass?
Despite the fact that last Friday's Anniversary Corvette came away with a solid 67% Nice Price win its seller still dropped his asking price by $200 the very next day. I think there's more to this story than can be gleaned from the confines of a simple Craigslist ad. If only Hunter S. Thompson were still alive and wicked-stoned, he'd get to the bottom of this!
In comparison to that, today's 2005 VW Passat also has a tale to tell, and this one's about how it shakes its money maker.
G/O Media may get a commission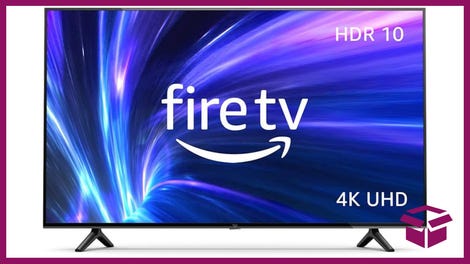 42% Off
Amazon Fire TV 50" 4K Smart TV
Do you recall the '96 Passat we had here a few weeks back? It was a TDi, a five-speed, and a longroof, and was deemed unworthy of its price tag despite those abundantly desirable aspects. Marty McFly-forward nine years and you come up with today's 2005 Passat wagon, which is also a TDi, also a wagon, and also manually jogged between its cogs.
It's that last bit that might raise an eyebrow or two - if you have two, you're not one of those new monobrow sporting hipsters are you? - as the B5.5 TDi Passat was never offered here in the States with a stick shift. Let the pearl clutching begin!
These cars were offered with a panoply of engine choices back when new, everything from a plebeian gas four all the way up to the tax code-complex W8. The 2.0 TDi was introduced here in 2003 and featured direct injection, 134-bhp/247 lb-ft of torque, and a counter-rotating balance shaft mechanism nestled in the pan.
The failure of the BSM in the BHW motor is a given, and that's the likely reason the builder of this modded Passat chose to remove the vibration dampers with a retrofit kit. While he was at it, he also imbued the car with some sexy six-speed goodness.
The end result is a B5.5 longroof that let's YOU choose your gears, and do a better job of shaking the milk and bring the boys to your yard.
The ad notes that the conversion was done professionally, and has had all its bugs worked out. You know, every time someone says they're working out the bugs I picture cockroaches using free weights. Weird, I know.
The black over light grey Vee Dub looks otherwise stock and presents well in the ad, even having clean and clear plastic headlamp covers, a rare commodity on Passats of this age if personal experience is to be believed.
The car comes with 168,000 on the clock, but obviously less on that spankin' new six-speed. GTi wheels dress up the out of doors, while on the inside you get lots of plastic (this must be a GL), and a stereo head unit in the dash that does both CDs and Cassettes for all of your mom's music needs.
Along with the fun gearbox and shake-em you won't break-em engine work, there's a renewed clutch, axles, timing belt, and ECM tuning to brag about with your friends. All in all, this is seemingly a pretty sweet opportunity for someone who digs VW diesel wagons. But how sweet is its price?
The asking is $11,000, which is a big premium over KBB, but keep in mind a couple of things: this is a unique edition owing to the custom mechanicals, and nobody seems to be asking close to KBB for these cars in general, I looked.
What do you think about this particular Passat and that $11,000 asking? Does that seem like a price that could shake things up? Or, does that make this a manual diesel wagon that you would pass-on?
You decide!
Seattle Craigslist, or go here if the ad disappears.
Help me out with NPOCP. Click here to send a me a fixed-price tip, and remember to include your Kinja handle.