It's the first Nice Price or Crack Pipe of 2015 and to celebrate, we're going to Jolly Olde! That's were this MR2 got its Audi V8, and you get to decide if it and its in-pounds price are a quid pro-go!
Not all that long ago Regular Car Reviews offered the question that asked, owing to its ubiquity and traditional mid-engine handling, is Toyota's turbo MR2 perhaps the most dangerous car one could buy? I think that's debatable, but if the stock compressor-equipped unit is potentially perilous, then this custom made first-generation MR2 with an Audi V8 should be vastly safer, being as it is, naturally aspirated.
The early MR2's contemporary competitor, the Pontiac Fiero, has long seen V8 updates. Those have mostly come by way of V8 Archie in Illinois, U.S.A.. Those typically involve some sort of Chevy V8 or perhaps a Northstar if you're uppity, and maintain the Fiero's trunk and sidewinder engine layout.
This MR2, which was converted by the expert Toyota fluffers at Woodsport in Tursdale, County Durham, rocks an Audi 4.2 claimed late of an S8. As you all know, Audi V8s don't really do sidewise. This one is longitudinally placed, and backed by a six-speed manual gearbox. That placement means a little less room in the interior, and the loss of the rear trunk, er boot. Sorry Brits.
G/O Media may get a commission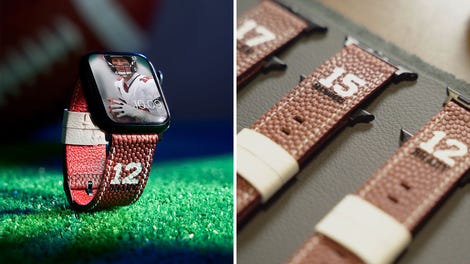 Official NFL PRODUCTS
Official NFL Apple Watch Bands
Along with the 360-bhp (stock) mill this MR2 has gained a custom wide body kit, Porsche 996 brakes at the corners, and coilovers keeping things in line. Inside there are a pair of Cobra seats (which the ad says need work) and a partial roll cage, whatever that means. Overall the car is described in typical British fashion as featuring massive specification.
This isn't some hack job like that odd bodkin mid-engine CRX we had a while back, as Woodsport does really nice work. You can see the build here, which was done in 2009/10. According to the eBay.uk ad, the car was built as a hill-climber/sprinter, but the owner can't find the time. It looks to be road-worthy, and for those you salivating over it in the U.S., yes it's over 25 years old.
The seller has set £10,995 for the drive-away on the car, and that equates to a little over seventeen large in greenbacks. It's a solid fact that no matter where you are you would be hard pressed to replicate such an amazing car for anywhere near that kind of scratch. But would you want to?
What do you think, are we going to start off 2015 with a Nice Price win for this cool custom bit of British build? Or, does it going to set precednent with a Crack Pipe loss for its price?
You decide!
eBay UK, or go here if the ad disappears.
H/T to SVH for the hookup! Also, it's seen time on BaT.
Help me out with NPOCP. Click here to send a me a fixed-price tip, and remember to include your Kinja handle.