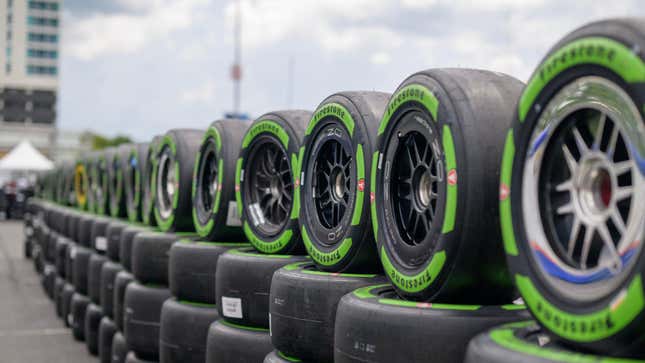 Last year, Firestone trailed an experimental tire compound during IndyCar's Nashville race weekend. The green sidewall tires were composed of rubber sourced from guayule desert shrubs, replacing the usual soft alternate tires with red sidewalls. Importantly, the drivers felt the guayule tires drove identically to the typical red sets despite being made out of a more sustainable material. The American tire manufacturer has decided to expand the use of guayule tires in IndyCar for the 2023 season as a result.
Grand Prix is The Best Racing Film That No One Talks About
Firestone has announced that it will supply guayule alternate tires for all five IndyCar Series street circuits races, including next weekend's season-opening Firestone Grand Prix in St. Petersburg, Florida. The slower primary compound tire will still be made of traditional rubber as well as both compounds during the rest of the 17-race season. The manufacturer estimates it will produce over 1,900 guayule tires for the 2023 IndyCar season.
Paolo Ferrari, CEO of Bridgestone Americas, said in a release:
"We are driving sustainability in every area of our business, and we're thrilled to be advancing guayule and other sustainable practices in America's premier open-wheel racing series. Firestone has a tremendous legacy of innovation and performance in racing, which we will continue to build upon as we move into this new era of cleaner, safer and more sustainable mobility on and off the track."
Firestone is also planning for every race tire used in this year's Indianapolis 500 to utilize synthetic rubber made from recycled plastic. Bridgestone, Firestone's parent company, has heavily invested in sustainable operations. The company began constructing its guayule processing and research center in Mesa, Arizona in 2012. Bridgestone also owns a 281-acre guayule farm in Eloy, Arizona, and plans to expand its capacity of up to 25,000 additional acres. The ultimate goal is for Bridgestone to be carbon neutral by 2050. The guayule tires and the drivers of the IndyCar Series will be in action on March 5th for the Firestone Grand Prix.