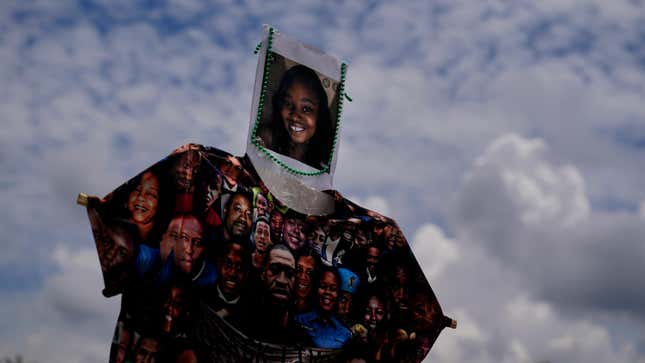 The family of a woman who died in police custody last year is seeking justice. AP reports that the family of Brianna Grier has filed a wrongful death civil rights suit against Georgia police. Grier died from a brain injury after falling out of a patrol car.
VW's ID Buzz Gets A Third Row For The U.S. And A Little Closer To Our VW Bus Dreams
When we first reported on the story, Grier had been taken into custody following a mental health episode. From that story:
In a release by the Georgia Bureau of Investigation, police arrested 28-year-old ​​Brianna Marie Grier on July 15th. Her mother called the police due to Grier having a schizophrenic episode. She had been previously diagnosed as such and was prone to have these types of episodes. Police arrived at the home between midnight and 1 a.m. local time, placed Grier in cuffs, and put her into the back of a police cruiser.

The following day, the family was contacted by a county sheriff who told them that Grier had "kicked the door out and jumped out the car." Mind you, most police cars have doors that are reinforced by either bulletproofing or some other method, and patrol cars have automatic locks for those rear doors to prevent just this from happening.

Her family didn't buy the story, of course. But that's what the department has stuck with.
An investigation carried out by the Georgia Bureau of Investigation (concluded in November) revealed a far more disturbing story: The arresting officer hadn't closed the rear doors of the car. So, when he drove away, Brianna fell out. The injuries she sustained from the fall resulted in her being in a coma for six days before she died.

Initially, Grier's family was left with more questions than answers as police wouldn't release vital details surrounding her death. Now after learning the truth, the family is suing. Per AP:
The federal wrongful death lawsuit filed Tuesday accuses Hancock County Sheriff Tomlyn Primus, his brother Lt. Marlin Primus and Deputy Timothy Legette of gross negligence leading to Grier's death. A message seeking comment was left with a person who answered the phone in the sheriff's office Wednesday.
Eric Hertz, lawyer for the family, pointed out that this is an example of why police should not be called to handle mental health crisis.
"This is not the first incident, but we hope it will be the last," Hertz said. "It is our goal in this case to get the highest verdict there's ever been in Georgia for a case of this type to send a message all the way up to the top that this should not happen."