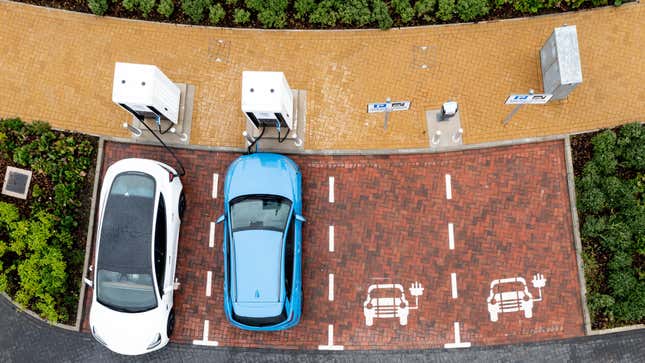 The future is electric. At least, that's what governments, officials and automakers around the world have hammered into the brains of the near 10 billion people on this planet through at least the latter half of this decade. Riding right alongside that catchy mantra for the EV movement have been what some of us in the industry would call "optimistic" pledges — goals like having a brand's entire vehicle lineup fully electrified somewhere between 2030 and 2040. Cities like Paris and London moved to outright ban internal combustion engines from their respective city limits, and here in the U.S. we're seeing cities and states banning the sale of ICE cars by around 2035. As of this week, we're already a third of the way into 2023. Can we really have every manufacturer producing only electrified vehicles by 2030 — less than seven years away? Or 2035 — just 12 years away? According to experts, those goals are a good bit on the optimistic side.
Chase Elliott Explains the Challenge of Adapting to NASCAR's Next Gen Car
In case you missed it:
A research study conducted by ABB Robotics and Automotive Manufacturing Solutions found that over half of respondents (59 percent) said reaching the target deadlines proposed by regulatory bodies would be difficult. It's not for a lack of trying, as we have seen a boom of electric vehicle debuts in the last year. But at the very core of this move to make EVs the answer, and so quickly, manufacturers are hitting a lot of road blocks. Designing the electric vehicle and its new systems are one thing. But having everything all set to actually produce them for the public is another.
One of the major issues respondents highlighted in the survey, is the global supply chain, which has yet to recover from the worldwide lockdowns during the first stages of COVID-19. Factory and plant shut-downs, combined with work as a whole stopping, created a backlog of parts and raw materials for a lot of vehicles. While it has wholly improved since 2020, we're still — in 2023 — seeing a lag in getting parts for repairs or production.
Then there's the actual infrastructure to build and run these cars. Factories slated to manufacture EVs either need to be retrofitted or completely redone, which as the article states, takes a lot of money. Not to mention the addition of battery manufacturing plants, which automakers are teaming up with companies to make possible. But that creates another similar problem of a need to build up facilities where batteries can be manufactured. These plants will also need people trained to install and run the equipment as well.
Those batteries also need precious metals, as do the chips for all the computerized gadgets and so on. Mining for those metals isn't cheap, and the natural quantities of those metals are dwindling.
Lastly, there's the fact that our roads can't handle the extra weight, there aren't enough chargers to make electrification viable for everyone, and most electric grids around the world can't handle that kind of load (I mean, some parts of Michigan's grid can barely handle all the air condition units running in the summer), and there's a lot more work to be done beyond just "making an electric vehicle."
I've stated it before, and I will say it again: I still believe we rushed into EVs and that they are far from the answer. With that in mind, can automakers and governments achieve these goals in several years? It could be insanely close. But when you step back and really take a look at the whole electrification picture (and I just gave you the major highlights), there are a lot of hurdles that society and the industry have to jump in order to make that greener future possible. And of course, rational individuals are going to approach those deadlines with some hesitancy. It's like planning on doing deep sea diving without the proper suit and equipment. Sure, you can deep sea dive, but without the suit you're going to choke from the lack of oxygen and crushed by the pressure.