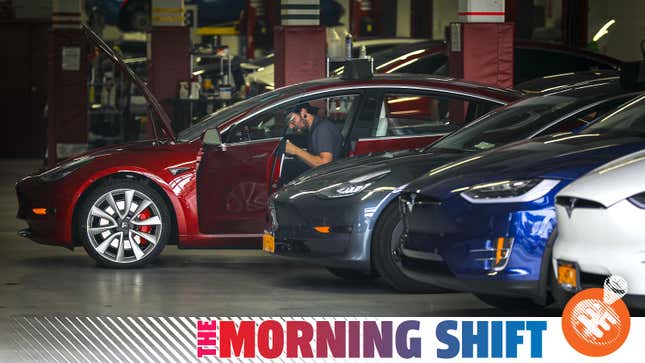 Electric vehicle owners are relatively dissatisfied with their dealer service experience, the European Union will try to hash out a deal with the Biden administration over battery sourcing and General Motors EVs aren't leaving the production line as quickly as anyone hoped. All that and more in The Morning Shift for Thursday, March 9, 2023.

1st Gear: Service Departments Still Aren't Ready for EVs
J.D. Power's Customer Service Index Study is out for 2023, and some of the results may surprise you. For example, while Lexus and Porsche lead overall and premium dealer service department satisfaction, respectively, it's actually Mitsubishi that took home the award among mass-market brands. On the flip side, the industry isn't navigating the slow uptake of electric cars as smoothly as it probably should. From Automotive News:
Overall EV owner customer service satisfaction is 42 points lower than internal combustion vehicle owner satisfaction, the study finds. Recall rates — almost double among EVs — and service adviser knowledge contribute to this lesser satisfaction.

The EV industry has been "hyperfocused" on launches but now consumers need vehicle maintenance and repairs, Chris Sutton, a J.D. Power vice president, said in a statement.

"As the electric vehicle segment grows, service is going to be a 'make or break' part of the ownership experience," Sutton said. "As training programs for service advisers and technicians evolve, EV service quality and customer experience must address both the vehicle and the unique customer needs. The EV segment has the potential to spur massive convenience improvements in how customers service their vehicles — but we're not seeing the benefits yet."
I'm just spit-balling here, but I feel like that boast you often hear of EVs requiring less maintenance than internal-combustion cars is kind of an empty ideal right now, what with the lack of experienced technicians on staff at most service departments, and also the price when something actually does go wrong. Perhaps one day that'll bear out, but that day hasn't come yet. In other news, the survey suggests that owners of all cars are waiting longer for service appointments these days as a result of parts and labor constraints — about a day for mass-market vehicles and almost two, on average, among premium brands.
2nd Gear: The EU Might Get What It Wants
The European Union has been worried for a while now about all of the business it's losing to the U.S., thanks to the Inflation Reduction Act. On Friday it's reportedly set to begin negotiations with President Biden to add the EU to the list of free-trade entities for battery sourcing, which would allow European-manufactured EVs to qualify for the same discounts for American buyers as those built at home. From Reuters:
U.S. President Joe Biden and European Commission President Ursula von der Leyen are expected to agree on Friday to begin negotiations on ensuring free-trade agreement-like status for the European Union, two sources familiar with the plans said on Wednesday. [...]

Reuters reported last week that the United States and EU were working to make European minerals eligible for tax credits under the $430 billion U.S. Inflation Reduction Act, citing a senior EU official.


That law requires rising percentages of battery minerals to come from the United States or a Free Trade Agreement partner.

A U.S. Treasury spokesperson said the department, which oversees the electric vehicle tax credits at the heart of the dispute, would evaluate any newly negotiated agreements to ensure they meet the critical minerals requirement of the tax credit during the rulemaking process.
Ultimately the goal of what the EV-related portion of the IRA morphed into was to reduce reliance on Chinese firms in the supply chain, right? You could probably still do that while allowing EU-built vehicles to qualify for at least some credit, even better if the EU reciprocates. If this comes to pass it'd be a huge win for the bloc, though I have to wonder if Volkswagen and others will abandon their plans to raise U.S. factories and seek production closer to home.
3rd Gear: BMW Hits Its Targets
BMW has finally published its 2022 earnings, and it's doing swell, thanks for asking. Courtesy Reuters:
BMW's core carmaking business hit its 2022 earnings target, the company said on Thursday, helped by strong pricing and consolidation of its China joint venture.

Group revenue rose 28% to 142.6 billion euros ($150.66 billion) versus a Refinitiv SmartEstimate of 141.6 billion.

Its autos business reported an 8.6% margin on earnings before interest and taxes of 10.6 billion euros and cash flow of 11.1 billion euros.

Almost half of the latter came from a cash contribution from Chinese joint venture BMW Brilliance Automotive (BBA).

It proposed a dividend to shareholders of 8.50 euros, up from 5.80 a year earlier.
The German automaker also appointed a new chief financial officer — Walter Mertl, who is replacing Nicolas Peter. Peter, age 60, is stepping down after reaching the company's age limit for executive board members. Mertl's 49, so he can hold down the fort for a good decade, if he pleases.
4th Gear: GM's Struggling With the Ramp Up
General Motors simply can't build as many EVs as quickly as it wants to, and nobody's exactly sure why. From the Wall Street Journal:
More than 15 months after GM began building the electric GMC Hummer pickup truck, the company has been making roughly a dozen a day, a figure far below initial targets for this point in the rollout, people familiar with the matter said. The Hummer has a wait list of more than 80,000 people. Some Hummers have been stuck at dealerships under a sales freeze since October, as GM investigated a potential problem with water seeping into the battery pack.

GM's other high-profile new EV, the Cadillac Lyriq SUV, which it started selling almost a year ago, is also experiencing an unusually slow ramp-up. Through February, GM had sold roughly 1,000 Lyriqs since it began building them in March 2022. Comparatively, Tesla Inc. sold an estimated 252,000 Model Ys in the U.S. last year, according to research firm Motor Intelligence. The Lyriq is a direct competitor to the Tesla Model Y.
The Hummer's issues with water seeping into the battery pack didn't help GM's desire to scale up production, nor has the usual supply-chain holdups. But for now, the company is holding to its prediction that manufacturing will flow a lot more smoothly in the second half of the year. Let's wait and see if that outlook proves true.
5th Gear: ICE Cars Peaked Years Ago
It seems the pre-pandemic sales of gas-burning cars will never be equaled again — at least if Bloomberg's data-based predictions are on the money.
Calling peaks is generally a no-win endeavor. The call will either be correct but seem obvious after the fact, or wrong and cause for years of mockery. But with 2022 data now available, BNEF is confident the global market for internal combustion vehicles peaked in 2017 and is now in structural decline.

This may seem self-evident to those watching the market closely, but is likely still jarring for others. Forecasts for oil demand issued just a few years ago still assumed steady growth in sales of these vehicles well into the 2030s.

At the 2017 peak, 86 million internal combustion passenger vehicles were sold, including traditional hybrids like the Toyota Prius. Battery-electric and plug-in hybrid models were a tiny sliver of the market that year, accounting for just over 1 million vehicles combined.

The picture was quite different in 2022. Combustion vehicle sales were down almost 20% from the peak, to 69 million, and plug-in vehicles jumped to 10.4 million.

Even if we add plug-in hybrids to the internal combustion column, the picture doesn't change much. The market still would have peaked in 2017, and global sales in 2022 would be 72 million, still 16% off the high from five years earlier.
This isn't surprising, as EV sales are growing — even in small quantities — all the time, in tandem with an overall reduction in auto sales. But putting numbers to it is eye-opening. This was bound to happen eventually of course, but the pandemic accelerated it.
Reverse: The First Highways Adopted
On this day in 1985 — 38 years ago — Texas' Highway 69 kicked off a trend. From History.com:
On March 9, 1985, the first-ever Adopt-a-Highway sign is erected on Texas's Highway 69. The highway was adopted by the Tyler Civitan Club, which committed to picking up trash along a designated two-mile stretch of the road.

The Adopt-a-Highway program really began the year before, when James Evans, an engineer for the Texas Department of Transportation, noticed litter blowing out of the back of a pickup truck he was following in Tyler, Texas. Concerned about the increasing cost to the government of keeping roadways clean, Evans soon began asking community groups to volunteer to pick up trash along designated sections of local highways. Evans got no takers for his idea; however, Billy Black, the public information officer for the Tyler District of the Texas Department of Transportation, took up the cause and organized the first official Adopt-a-Highway program, which included training and equipment for volunteers. After the Tyler Civitan Club's sign went up on March 9, other groups volunteered to beautify their own stretches of highway. The program eventually spread to the rest of the U.S. and to such countries as Canada, Japan and New Zealand.
Neutral: Your Passenger Would Hate You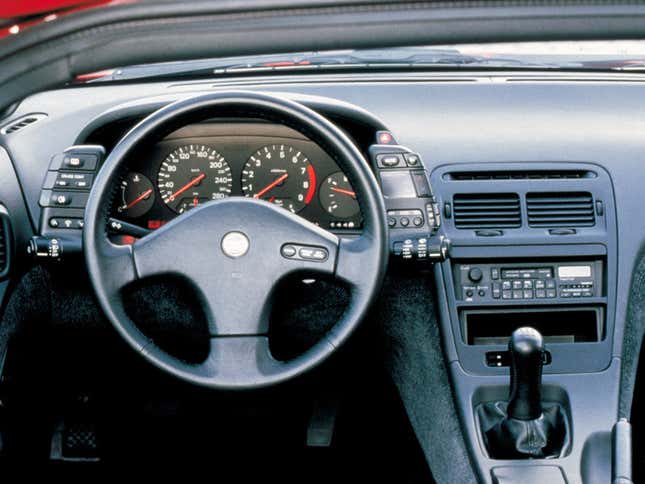 Playing Gran Turismo 7 yesterday, I noticed something I hadn't before— the weird pods hanging off the sides of the Z32 Nissan 300ZX's instrument cluster. The one on the right even includes the climate controls, with a little LCD display presumably to show the set temperature. Every automaker drones about "driver-focused" interiors, but it doesn't get more driver-focused than this.