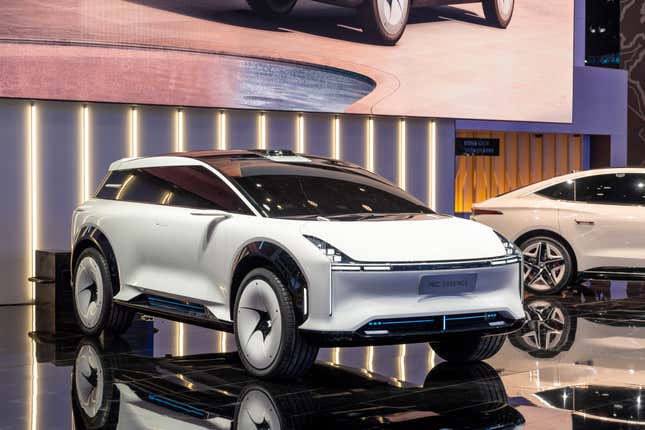 The Shanghai auto show is in full swing, and EVs have taken center stage. This year's show is a microcosm of the Chinese auto market, where domestic EVs from Zeekr, BYD and SAIC are quickly gaining marketshare and capturing the attention of the public. Fully-electric cars are so appealing to drivers in China that carmakers are now desperate to differentiate their EVs, and they're getting weird with it. At this year's Shanghai show, EVs have featured wild tech, from in-car karaoke systems to crystal balls and massage chairs, as Reuters reports.

This NYC Garage Takes Vanlife To The Next Level | Jalopnik Visits
In case you missed it:
Far be it from me to complain about weird EVs. It's about damn time electric cars started embracing their destiny as relatively simple machines — with fewer moving parts than their ICE-equipped cousins — that are free to take more risks in terms of exterior and interior design. Who doesn't want to belt out '90s tunes in a silent EV cabin or enjoy a massage while on the road in their futuristic EV?
In the end, whatever wild technology Chinese EVs can feature won't be nearly as appealing as a good value proposition, as the BYD Seagull has shown. The latest EV from BYD has stolen the Shanghai auto show with its low price. But that's not stopping premium EV brands like Zeekr from adding massaging features to their captain's chairs. Or Polestar from showing off its newest EV, which trades a rear windshield for HD cameras and on-screen feed of what's behind the car.
Rear windshields — or glass panes, in general — probably weren't broken enough to fix, but if the Polestar 4 wants a gimmick and the safety-conscious Volvo and its parent company, Geely, signed off on the idea, then why not?
Likewise, Hyundai is experimenting with new whiz-bang tech: a crystal ball in the center console of the Genesis GV60. The crystal ball is used to change gears in the EV, but it also reportedly serves as a "a visual cue in lieu of the traditional engine noise absent in an EV," per Reuters. Genesis calls it the "sphere" and it will light up when the Chinese market EV starts up.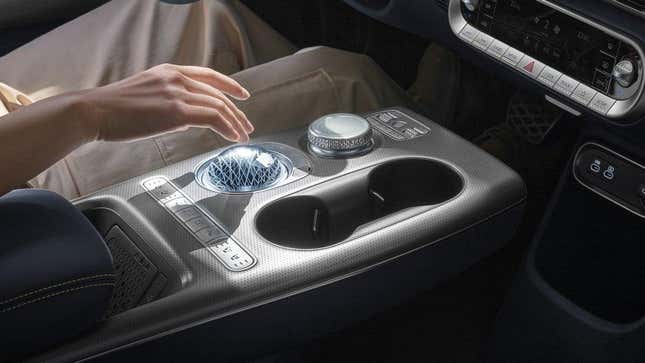 Other carmakers such as Hongqi and Rising Auto are leaning hard into tech, which makes sense in China where consumer-driven electronics are more of a draw than outright power and performance, which could be more of a uniquely American infatuation. I guess if EV drivetrains are not that difficult to develop and iterate, carmakers must turn their attention to other features and tech to offer a compelling EV package.

Finally, Reuters says that while carmakers outside of China charge premiums for additional tech, Chinese EV makers usually include additional features for free to add value to their EVs. Anything that adds that X factor is a boon, which could make all the difference when it comes time to buy an EV. It sure looks like EVs in China are done justifying their existence to the average driver: they no longer need to compare themselves to ICE-equipped cars. Now, the EV war for motorist's hearts and minds seems to be all about the "Wow! effect."