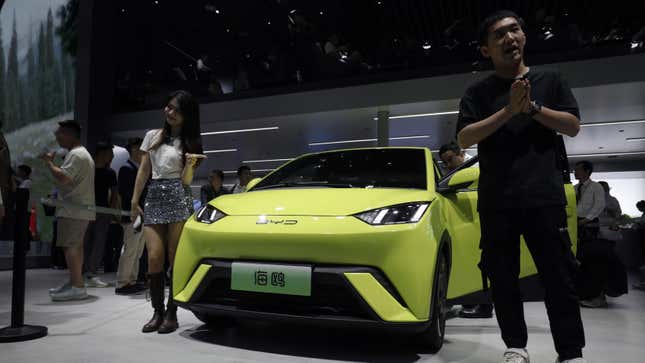 The new BYD Seagull debuted at the Shanghai auto show this week. The sale of EVs is surging ahead in China, the world's biggest auto market. Despite the many EVs on display from auto giants such as Toyota and Volkswagen, as well as those from American EV makers like Tesla, the "hi-vis" yellow BYD Seagull stole the show, according to Reuters. And it's all down to the Seagull's absurdly low starting price of ¥78,000, or around $11,327 at current exchange rates.

In case you missed it:
When the BYD r goes on sale in China, it will be quite cheaper than the current bestselling EV in the country, the BYD Dolphin, which starts at ¥116,800, or around $16,961. As Reuters notes elsewhere, citing Tesla CEO Elon Musk, the only thing holding back EV sales is high prices. But it seems that Chinese carmakers plan to address high prices and corner the low end of the market in the process with such models as the Wuling Mini EV and the bigger (but still relatively cheap) BYD Dolphin.
The BYD Seagull now joins the lineup of China's inexpensive EVs, and analysts tell Reuters that it could be the bestselling EV in the country within six months of its launch. If that turns out to be true, that would essentially make the Seagull the bestselling EV in the world, by virtue of the size of China's auto market.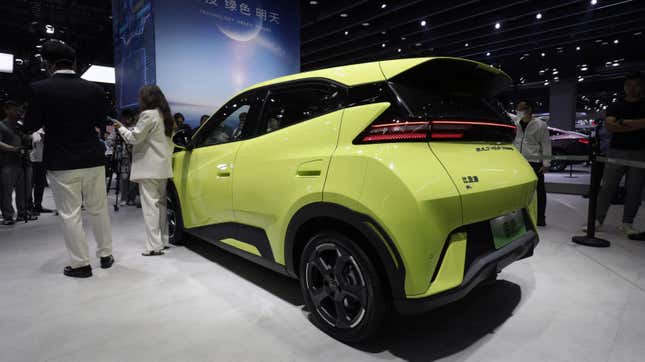 The BYD Seagull will be available in two different versions: the base model Seagull will have a range of 305 kilometers per charge, or about 190 miles; a higher-end model will come with a greater range of 405 kilometers, or just shy of 252 miles. BYD adds that the Seagull boasts fast charging capabilities, going from 30 to 80 percent of its full battery capacity in just 30 minutes. And it's also going to use the newly-developed BYD Blade battery, which is reportedly going to power some Teslas made in China.

And, yet, the BYD Seagull will massively undercut the price of the cheapest car from Tesla, the Model 3. Despite that EV's domestic production, the Tesla Model 3 starts at ¥229,900 in China, or about $33,384. That's nearly three times the price of the upcoming Seagull, which means that Tesla could be vying for the attention of the average car buyer in China very soon.
Elon Musk was right about one thing: prices are holding back EV sales. At least in China, that will no longer be the case for long. BYD hasn't mentioned whether it plans to export the Seagull to Europe nor the U.S., where even the cheapest EVs like the Chevy Bolt easily double the price point of the Seagull.