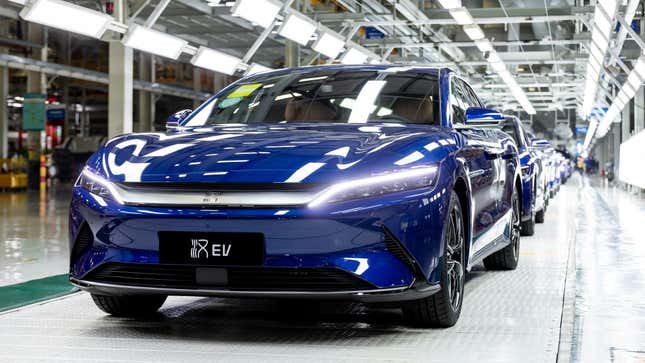 Chinese automaker BYD outsold Tesla by a wide margin last year with the help of its inexpensive electric cars. BYD has now become the biggest EV maker in the world, according to the South China Morning Post, but only when accounting for its sales of both fully-electric and plug-in hybrid models.

That's not to say that BYD's fully-electric cars are not catching on in China, and therefore undermining EVs from foreign and domestic rivals, including Tesla and NIO. BYD's fully-electric cars are steadily gaining sales, mostly in its native market; in 2022, BYD sold over 911,000 EVs globally, and more than 946,000 PHEVs for a combined figure greater than 1.86 million, as Inside EVs reports.
And the company is enjoying a spike in popularity despite the latest pandemic lockdowns in China affecting car sales. In fact, the SCMP says that pandemic woes are more or less related to BYD's sales because people want cheaper cars:
Booming sales by the carmaker to taxi fleets and budget-conscious households underscore how lay-offs in China's technology industry and the pandemic-ravaged economy are pushing buyers down market towards cheaper, locally made EVs, instead of imported models or foreign brands like Tesla.
Meanwhile, Tesla sold over 1.3 million fully-electric cars globally — Elon Musk's EV company doesn't disclose specific figures for China alone — which is ahead of EV figures from BYD by over 400,000 cars, but behind BYD's figures overall.
That technically makes BYD the largest EV maker in the world, but the catch is that it's not the straightforward comparison implied by calling BYD the "biggest EV maker in the world," since rival Tesla doesn't sell plug-in hybrids.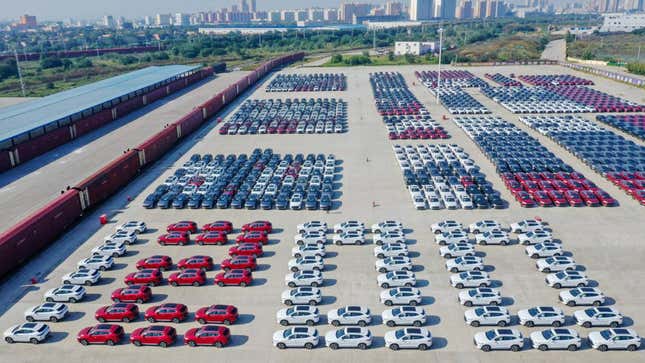 But BYD is nonetheless emerging as an EV maker that'll play a big role in the global EV market, both directly and indirectly. BYD also makes batteries, and it counts Tesla as one of its buyers. You can see the appeal, then, of a cheaper EV that may not have the same amenities as other cars, but has the same batteries. That makes for a more affordable electric car, per the SMCP:

Most BYD models are priced between 100,000 yuan and 200,000 yuan (US$29,000), a bargain compared with Tesla and other competitors such as Nio and Xpeng , whose technology-packed models sell for more than 300,000 yuan each.

[...]

"EVs priced below 200,000 yuan are popular among white-collar consumers because they want to save money," said Tian Maowei, a sales manager at Yiyou Auto Service in Shanghai. "In the domestic market, BYD's electric and plug-in hybrid cars are easy to sell because they are fitted with high-performance batteries believed to be as good as those used by the premium carmakers."
BYD actually started as a battery maker, which has given it a leg up in making EVs. The company's "blade lithium iron phosphate battery packs" are seen as a known quantity in China. These are reportedly more energy dense and more resistant to overheating, and BYD uses these batteries in its EVs and PHEVs.
With good battery packs and a lower price tag, it's no wonder BYD is selling more cars than its rivals overall — accounting for more than a third of the 6.4 million so-called "new energy vehicles" sold in China in 2022. Tesla is still the fully-electric king for now, but BYD shows that could change sometime soon.