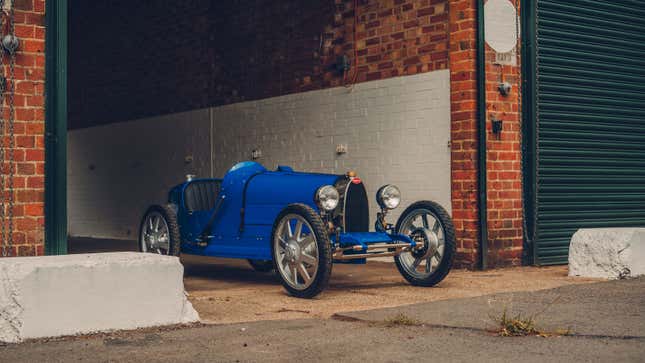 It's always fun hopping on a car configurator to spec out something like the Nissan Z or GR Corolla to see how you'd order yours. You can even design your dream Rolls Royce or Ferrari knowing full well that it's a car you're never going to order, but that doesn't detract from the enjoyment of picking the perfect wheels or paint. Would that joy remain if it was a model car for your kid?

The Little Car Company set out to answer that question with its latest configuration tool. The British company makes painstakingly faithful replicas of iconic cars, albeit it on a much smaller scale—a scale that makes them acceptable for your kids to drive around in.
In the past, it's shipped some pretty exquisite Aston Martin models, as well as a replica Ferrari Testa Rossa J that can hit 50 mph. Its latest project is the Baby Bugatti II and is based on the Type 35 that raced in the 1920s.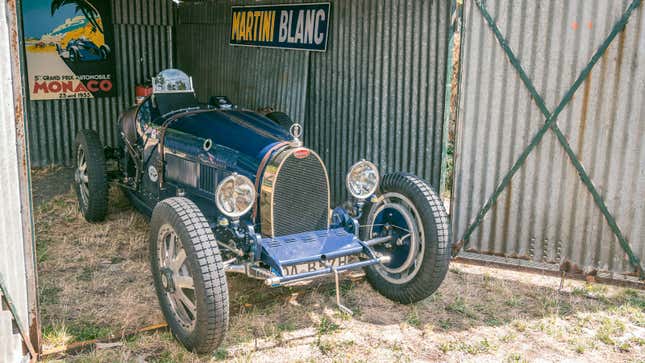 The Bugatti Baby II was built in partnership between The Little Car Company and Bugatti, powered by a 10 kW motor to help reach a top speed of 42 mph. Each car measures 108 inches long, 41 inches wide and is 31 inches tall, and reportedly takes more than 200 hours to build thanks to its hand-formed aluminum bodywork.
Because each one is hand built to order, there are endless opportunities for customization of your dream toy car, made possible by the configurator tool.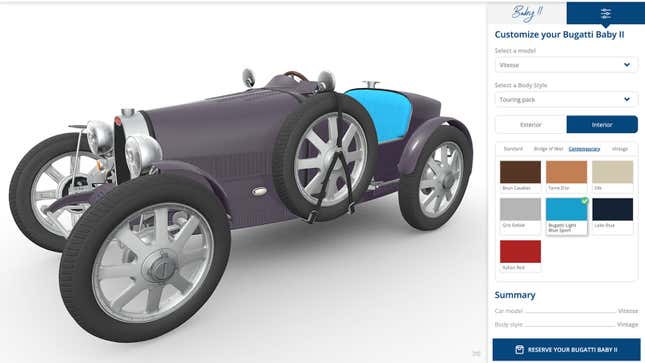 Personally, I'd take a Vitesse model with the touring pack that adds fenders and mirrors. I'd finish it in the dark Lorelin Violet purple color and give it a Bugatti light blue sport seat. The cost of all that? You're looking at more than $50,000.
If you opt for your Baby Bugatti in the Pur Sang model, prices start at a whopping $65,000. For that, you get a long range battery pack, upgraded 10 kW powertrain and handmade aluminum bodywork. You even get your own Bugatti Speed Key to unlock the Expert driving mode in the Vitesse and Pur Sang models, giving you access to the motor's whole 13.6 hp. Wow.