Today's Nice Price or Crack Pipe Lancia Zagato was called the Spyder in Europe, spelled with a "y." This one's got low miles and a new top, but will its price have you asking why not?
The Oregon State Beavers got crushed by Stanford last Friday night - 42 to 24. That's a damn shame if you're a Beaver booster, but it was a fitting cap to a day that earlier saw a 65% Crack Pipe loss suffered by our Beaver-accented 2005 Audi Allroad contender. Remember kids, stay in school and make good choices!
You know what was generally considered to be a bad choice back in the '70s and early '80s? Buying a band new Lancia that's what. The Italian brand had at one time been the nation's answer to BMW, offering innovative and well-equipped sporting saloons, engaging sports cars, and clever little cars. And then, in 1969 and following a series of financial difficulties, Fiat bought them.
The Fiat-era Lancias were little more than Fiats in fancy clothes - the Monte Carlo (Scorpion here in the States) was in fact originally intended to replace the Fiat 124. These Lancias used Fiat engines, Fiat/Citroën transmissions, and in place of the fine craftsmanship that denoted earlier Lancia efforts, the Betas all had Fiat-levels of quality.
G/O Media may get a commission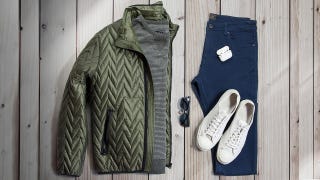 60% off
Jachs NY Fall Sale 60% Off
That's not to say they ware necessarily uninteresting or had been intentionally designed to maim you or anything. They just had a likelihood of leaving you on the side of the road comparable to that of a contemporary Jag or a handsy frat boy.
This 1982 Lancia Zagato is cool enough to make even that eventuality a pleasant experience. Zagato (the coach builder best known for more having more double bubbles than a Sir Mix-A-Lot video) and Lancia go way back, and this Beta-based targa is the last of their collaborations offered in the States.
The funny thing was, the cars weren't actually designed by Zagato. Instead the redesign of the greenhouse was handled by Pininfarina on top of the in-house designed Beta base. Zagato however, handled the cars' construction.
That build usually included a liberal dose of rust, though this ultra-low mileage (65K) edition seems to have eschewed that inclusion as it seems, in the pics at least, to be a solid citizen. The azure paint still seems to hold a shine, and the soft section of the convertible top has gotten a new Hartz cloth top to compliment it.
The interior is equally up to the task - amazingly as these have tended to have the half-life of something created in the Large Hadron Collider. You get four true bucket seats, the back ones here described as "kid seats." There's also a vintage Blaupunkt radio and a tall stick shift for the five-speed that, if it's anything like the Betas I've driven, is as wobbly as Bambi on ice
That five-speed is paired with a 108-bhp version of the DOHC 2-litre found in many a Fiat 124, only here sideways. The Betas were front-wheel drive and that brings us to a question about the wheels on this car. No, it's not the misspelling of Cromodora in the ad, it's the fact that these Abarth five-spokes look like they have rear-wheel drive offsets. It's hard to tell from the pics, but I'd ask about that.
You don't need to ask about the Price however. The seller says that he's losing garage space and so has put the car up for grabs at a posted $4,500.
There's no question that the Lancia Zagato straddles an awkward line between classic collectable and "eh, that again?" That makes their values pretty hard to pin down. Of course, that's just what we're going to try to to right now.
What's your take on this tidy Zagato and its $4,500 price? Does that seem like Zee Deel? Or, is that too much bread for this Beta?
You decide!
Chicago Craigslist, or go here if the ad disappears.
H/T to rayisok for finding this white one, which led me to the blue one!
Help me out with NPOCP. Click here to send a me a fixed-price tip, and remember to include your Kinja handle.