Today's 1 of 90 Nice Price or Crack Pipe Avanti four door presently resides on the island of Oahu in Hawaii. That means that it's definitely worth a trip for a test drive, but will the price tag have you gladly saying Mahalo?
Let me start off here by saying that if anything I write about yesterday's 1968 Ford F-100 Pickup sounds similar to anything written by Michelle Obama it's pure coincidence. Now that that is out of the way let's note that, much like the first lady, that truck was strong, black, and damn respectable looking. It also came with a respectable price tag seeing as 80% of you anointed it with a Nice Price win.
Okay, enough of political satire let's get on with today's candidate, which is located in the great state of Hawaii, the state where President Obama was born. This 1990 Avanti LTS is one of about 90 built in 1990, and that apparently was all the cars Avanti built that year.
In case you're not familiar with the history of the Avanti, watch this episode of Comedians in Cars Getting Coffee and catch up.
G/O Media may get a commission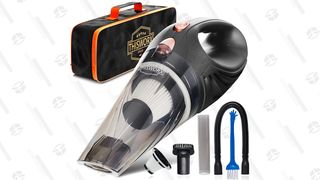 Save 50%
ThisWorx Car Vacuum Cleaner
Okay, that didn't quite go far enough so let's fill in some of the blanks. South Bend Indiana Studebaker dealers Nate Altman and Leo Newman bought the Avanti tooling from the defunct automaker in 1964 and continued production as one of America's premier specialty car makers, sourcing their mechanicals from GM.
By the late '90s both Altman and Newman had passed on and a new owner, John J. Cafaro, attempted to imbue the Avanti with new life by adding a convertible and, as exemplified by today's car, a four-door/four seat sedan.
These cars were based on sketches provided by the Avanti's original designer, Raymond Loewy, but they kind of lost something in the modern day translation. Still, it's pretty obvious that this is an Avanti from just about every single angle.
It's also pretty obvious that Cafaro raided the GM parts bin for far more than just mechanicals. By the '90s much of the Avanti's cool detail aspects had been either regulated out of existence, or were simply too expensive to produce. That led to this car featuring fiberglass bumpers carrying Corvette lights and side markers, and outside door handles off of a contemporary Lincoln Continental. The inside door pulls are off of a GM truck.
What I also know is that the whole thing rides on a Caprice frame and rocks a 170-bhp 305 CID V8 and four-speed automatic. Heady stuff it most certainly is not, but it is repairable at pretty much any Pep Boys and that's worth something. Also, with only about 3,700 pounds to cart around it shouldn't be too much of a slug.
Some of that weight is attributable to all the luxury trappings this car maintains inside. There's tray tables on the seat backs, two AM/FM radios and three DVD players in there. And, while the interior styling of these later cars eschews the clever airplane cockpit motif Loewy originally intended, I still can't get enough of those sun visor DVD screens. Those are d' bomb. There's also burl wood trim throughout and the leather looks to be in great shape.
One the outside, the fiberglass seems to have stood the test of time. The seller says that it's scuffed on the driver's door and that while he has the paint he lacks the time to actually do the touch up. I say give the guy a break, he's in Hawaii and there's bikinis to ogle.
New white wall tires hold the car up and there's great Aloha State AVAN-T license plates that hopefully come with the car. Mileage is an amazingly low 29,000. Remember, there's not a lot of places that are all that far away in Hawaii.
This is a rare bit of history, and is in far better kit than the one we looked at a few years back. It's also a lot more expensive than that one. Thanks Obama. The asking price here is $28,000 and it's now time for you to decide if that seems like a deal for this Aloha Avanti. Should someone pay that much to be dropped into the lap of Avanti luxury? Or, is that just too much even with so many DVD screens?
You decide!
Honolulu Craigslist, or go here if the ad disappears.
Help me out with NPOCP. Click here to send a me a fixed-price tip, and remember to include your Kinja handle.