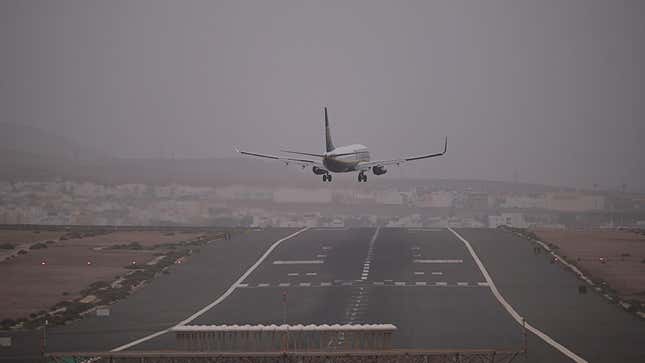 Most passengers that have stepped foot on a commercial airliner have had to deal with turbulence. A sudden jolt while walking down the aisle to the lavatory or getting shaken awake during a redeye flight. Turbulence is inevitable, but it has been getting more severe. The abrupt air has damaged planes and injured passengers. A study has found that the conditions for turbulence have been becoming more frequent over past decades because of climate change and will become even more frequent.
Porsche's Latest Concept Is The Sexy Electric EV HyperCar Of Our Dreams
In case you missed it:
A 2019 University of Reading study published in Nature found that the vertical shear in jet streams is now 15 percent stronger than in 1979 when observations began. Wind sheer causes turbulence. The sudden shifts in wind direction and speed jostles the plane as it flies through the air. Paul Williams, the study's co-author and a professor of atmospheric science, told Newsweek:
"We have accumulated a large body of scientific evidence now that turbulence is increasing because of climate change. An invisible form called clear-air turbulence is generated by wind shear, which, because of climate change, is now 15 percent stronger than in the 1970s. We expect a further strengthening of the wind shear in the coming decades, perhaps doubling or tripling the amount of severe turbulence."
The study projects that severe turbulence could become three times as common by 2050 at the soonest. While climate change is creating more devastating extreme weather events and damaging our transportation infrastructure, it's not clear if more severe turbulence will cause more injuries. Williams told Newsweek:
"What the science is telling us is that climate change is making the atmosphere more turbulent. However, whether flights are becoming bumpier and more dangerous is another matter, because there are other factors at play. Turbulence forecasts that pilots use to plan smooth flight routes are improving all the time, modern aircraft are better at handling turbulence, and passenger compliance with seatbelt advice may be improving. Whether the more turbulent atmosphere translates into more injuries remains to be seen."
Last December, 11 people were seriously injured when a Hawaiian Airlines flight hit severe turbulence. Incidents like this have become increasingly common for commercial flights in recent years. While flying is still exceptionally safe, caution ensures that it remains safe.