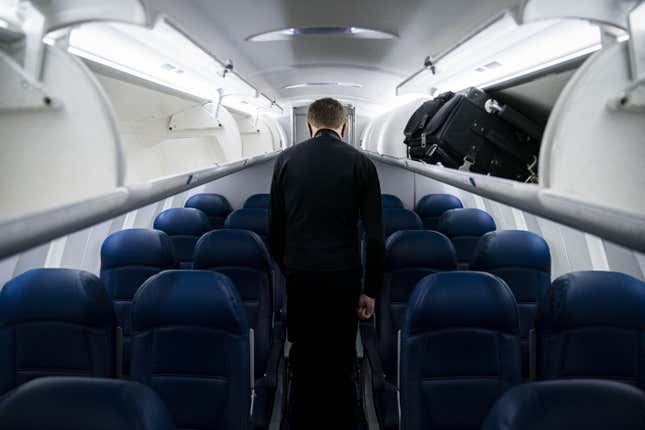 Air travel is incredibly safe, especially when compared to driving a car, but when things go wrong, they tend to go very wrong indeed. Those of us with deep paranoia scroll through the seat selection part of buying flights and wonder, where can I sit that will give me the best chance of surviving the unthinkable?

I know I've wonder it, late at night when the meds aren't quite kicking in; what it would take to make it through such a wildly violent and devastating event as a plane crash? CNN spent some time pondering the question and the answer was clear: The middle and the back of the fuselage, sandwiched between window and aisle seats. Basically, seats guaranteed to be both miserable and cheap are the safest by far:
It's worth remembering accidents by their very nature do not conform to standards. In the 1989 United Flight 232 crash in Sioux City, Iowa, 184 of the 269 people on board survived the accident. Most of the survivors were sitting behind first class, towards the front of the plane.

Nonetheless, a TIME investigation that looked at 35 years of aircraft accident data found the middle rear seats of an aircraft had the lowest fatality rate: 28%, compared with 44% for the middle aisle seats.

This logically makes sense too. Sitting next to an exit row will always provide you with the fastest exit in the case of an emergency, granted there's no fire on that side. But the wings of a plane store fuel, so this disqualifies the middle exit rows as the safest row option.

At the same time, being closer to the front means you'll be impacted before those in the back, which leaves us with the last exit row. As for why the middle seats are safer than the window or aisle seats, that is, as you might expect, because of the buffer provided by having people on either side.

It's important to remember that planes are designed to survive a crash in general, and pilots are trained to keep people safe. Still, plane design isn't much use against, let's say, a whole goddamn mountain, and pilots can also lose their marbles as well. So next time you're picking out a seat on a flight remember: A few hours of misery might just save your life. I certainly won't forget it.