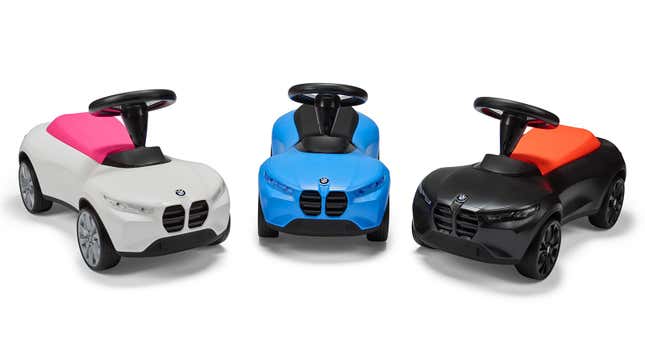 Just when you thought you were getting used to seeing BMW's oversized kidney grilles on its M4 and M3 models, the German automaker has gone and strapped the divisive design detail onto another model, this time one that targets a much younger demographic.

Chase Elliott Explains the Challenge of Adapting to NASCAR's Next Gen Car
In case you missed it:
BMW first unveiled its over-sized kidney grille on the Concept 4 back in 2019, and the design made its way onto the 4 Series, M4 and M3 soon after that. But since its launch, the design hasn't been well-received. Some onlookers compare it to a pig and other suggest it makes the cars look sportier.

But BMW has a simple solution to all the hate in the car community: nurture a whole new generation of car fans that see the design as totally normal. To do this, it's added the oversized kidney to the front of its BMW Baby Racer toy car.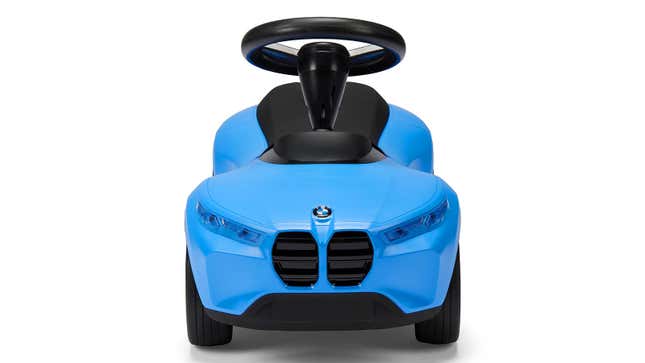 The car, for anyone not in the know, is about the only brand new BMW I could afford to buy right now. It retails for around $130 and is a simple, ride-on-top toy for kids to enjoy. It's been around for a few years and is currently in its third generation.
This year, the BMW Baby Racer III has been given a design update to bring it more in line with BMW's current crop of cars, CarScoops reports. Up until this point, the Baby Racer III didn't really bare a striking resemblance to any car in BMW's lineup. But, thanks to a few tweaks at the front and rear of the car, you could hedge a pretty good guess at what model BMW is mimicking here.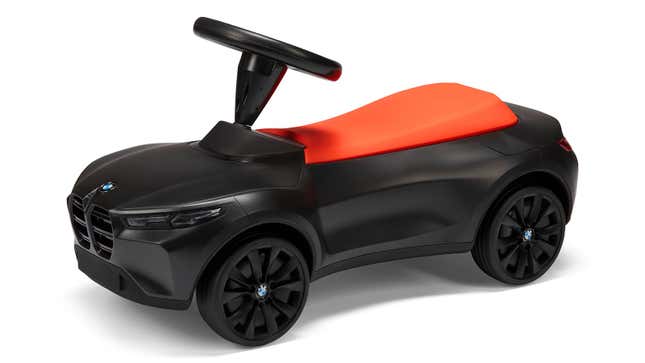 The new grille comes with the same blacked-out look that you'll find in the M4, as well as the same horizontal slats that cover the grille in that car and the M3. I wonder how long it'll be until kids start up their own range of aftermarket parts to patch over the grille?

Anyway, this car isn't entirely grille and there are further design tweaks at the rear, where BMW has given the Baby Racer III new tail lights. As with the front end, these are pretty similar to the lights you'll find at the back of the M4.
Just don't count on any performance upgrades on the Beemer Baby Racer III. But that's mostly 'cos it's just powered by the legs of your little one.