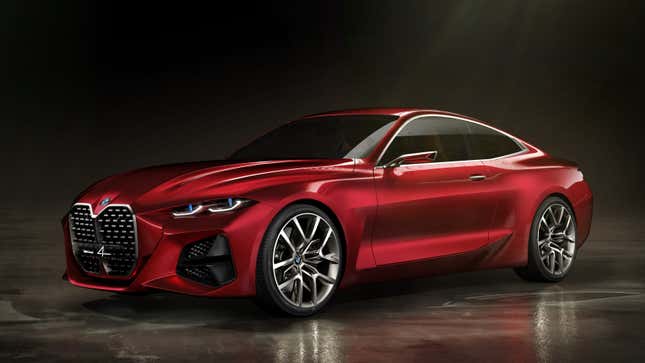 I hope you kids like the giant kidney grille on the new BMW X7 and updated 7 Series, because if this new BMW Concept 4 is any indication your next 4 Series coupe will be getting a lot of grille. Tons and tons of grille. Grille for days.
The Concept 4 was unveiled today at the Frankfurt Motor Show, and BMW's describing it as "a future-focused interpretation of the BMW Group's enduring DNA that represents the magic of coupe driving at its most exciting." But I can't take my eyes off that face.
Let's take a closer look: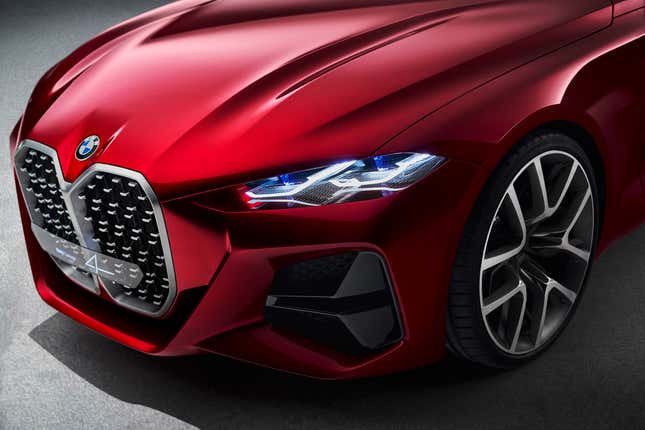 They didn't even remotely hold back on this one, did they? It's so... vertical. All-encompassing. Huge. It's big, is what I'm saying.
The 4 Series was launched a few years ago to give what was essentially the 3 Series coupe its own model and distinct identity. Designers definitely went all out this time, as the new G21 3 Series has a comparatively much smaller and more traditional front end. It's one thing to see that large angry face on an imposing SUV like the X7; I'm not sure how I feel about it here. I don't love it.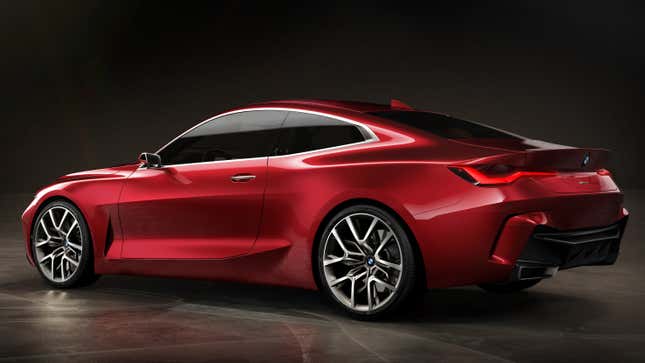 Thing is, I actually do like the rest of the car. It has some great, sharp lines, especially that rear deck lid and the low roofline. From the side or back, it's actually pretty sexy. Just don't look at the front, I guess.
No potential powertrain details were released, but since BMW explicitly says this previews the new 4 Series, expect a range of four- and six-cylinder motors and eventually an M4. But BMW's concepts generally hew very closely to how they'll look in production (see also: the very existence of the i8) so I'd be very surprised if it gets big changes.
More pics below. You be the judge.