Where the outgoing car was dinged for a harsh ride, tight interior, vague steering and diminishing appeal, the all-new 2019 BMW 3 Series has an overhauled suspension, is stretched longer and wider, features reworked steering and has boosted both power and torque.
It's still not quite as charming as classics like the E30 or E46, but it's good enough to make you question how much you value a manual transmission.
(Full Disclosure: BMW wanted me to drive the all-new 2019 BMW 3 Series so bad it flew me business class to and from Portugal, fed me the best octopus I've ever had, and opened up the Algarve International Circuit in Portimão to me, which was pretty cool.)
It's fair to say that the outgoing F30 BMW 3 Series was starting to show its age. Complaints about its rough optional adjustable suspension setup, empty steering feel and fairly reserved styling began to overshadow a car that otherwise had decent power and fine driving dynamics, though it never seemed to completely rise the occasion of 3s before it.
G/O Media may get a commission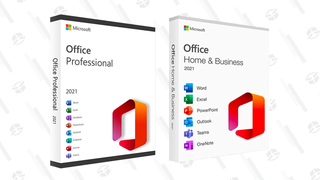 95% off
Cyber Monday - Lowest Price Ever - Microsoft Office Lifetime License
Don't get me wrong—it was a very good car. Hard to argue with, in many ways. But most critics agreed it failed to capture the magic BMWs used to have, and even we decreed the best thing about it was the available six-speed manual. That option is now dead on this new car, codenamed G20.
Plus, now it has to deal with new competition, like the Alfa Romeo Giulia, Kia Stinger, and even the manual-optioned Genesis G70 that we're already fairly smitten over.
I can't believe I'm saying this, but Hyundai's nascent luxury division is going to prove to be a real headache for BMW's reputation if they can't find a way to get the new 3 Series to outshine the shadow of losing a manual option. So how does it fare?
Specs That Matter
Well it's good news that both the new 330i and M340i start off with more power and, allegedly, no weight penalty despite getting wider, longer and taller.
The 2019 330i's 2.0-liter turbocharged four-cylinder is up to 255 horsepower and 295 lb-ft of torque, and will be available with either rear-wheel drive or xDrive all-wheel drive. The BMW 330i goes on sale in March starting at $40,250 for rear-wheel drive, with xDrive at a $2,000 premium. I don't know the exact price of the car I drove will all of its M Sport options ticked, but it's probably somewhere in the mid-50s if compared to the outgoing car.
The 2019 M340i is only available as an M-Performance model now, with its 382 HP and 369 lb-ft of torque from a turbocharged 3.0-liter straight-six, also available with xDrive or, for the U.S. only, rear-wheel drive.
You wanted a sport sedan, and that's your ticket.
Since the event BMW invited me to was a global launch, I also had a chance to drive the European-only 320d, which offers 190 HP and 295 lb-ft of torque from a diesel four-cylinder. It was deceptively fun, so much so I kept bouncing off the 5,000 rpm limiter because I forgot I was driving a diesel. It is not coming to America, because reasons.
The sorry news is that the 330i is America's entry level model, meaning there's zero chance of finding a new 3 Series for under $40,000 stateside, which doesn't really matter to BMW because these cars are for made for leasing these days anyway. Along with the diesel and the manual, the wagon is dead in America too.
The U.S. also has a new 330e iPerformance plug-in hybrid coming in 2020, which is set to get a boost in EV range with more details still to come.
The wider chassis results in a lowered center of gravity, BMW claims weight distribution is closer to 50-50 than the outgoing car, and it even claims the car has dropped "up to" 120 pounds compared to a similarly equipped F30, which is pretty damn impressive.
Looks
Gone are the bland, rounded taillights in the back and that awkward hood-line cutting straight across the top of the roundel up front, and in its place is a rear end pulled straight off of the Lexus RC F and a front fascia that's a spitting image of the new 5 Series from about 20 feet away.
I told a BMW representative that the word among the journalists on the trip was "Lexus" following the design presentation, and this person winced. In the corner of their eyes, tears, and a new vein on the temple.
The new headlight notches communicate that BMW is trying to evoke some of the charm and esteem of the E46 3 Series, which I honestly didn't even realize was a reference until somebody pulled up a photo on their phone and pointed it out.
As for the new rear-end, well, BMW tried. Sure, it's simplified, but by minimizing the "iconic" L-shaped taillight design into a single curved red blade housing a smoked square brake element was maybe sliding the scale a little too far into oversimplified.

Funnily enough, the first car I drove on the trip was the Euro-only 320d, which gets strangely shaped three-pointed stars on the lower front and rear bumpers. It's the same "Sport" trim design BMW opted to go with for the U.S. cars, so you'll be seeing it around anyway, though it's not really quite as sharp as the 330i M-Sport, which I think looks the best out of the range. It has a little bit of character, at least up close, without going too far with the lines and creases like the M340i.
I think it will age well and grow on people, but I could see some pretty significant changes coming for the inevitable mid-cycle refresh, particularly to the back end treatment.
On The Road
The biggest room for improvement for enthusiasts over the outgoing car is probably the steering, and BMW's people told me they went through an obsessive engineering storm trying to work as much road-feel and tactile information as possible back into its electronically-assisted setup.
It's the type of thing that's perfectly scrutinized on the curvy hillsides of the Iberian Peninsula, where the roads go from smooth ribbons of pavement to sudden stretches of Nerds Rope. The system is good, and when compared to cars that aren't the Alfa Romeo Giulia, it is indeed sporting.
In the "Sport" setting there is a significantly noticeable amount of welcome vibration and bump and lump feedback compared to the comfort setting, and if I was configuring an individual driving mode I'd probably make sure Sport was doing full-time steering duty.
There's still a little bit of give at the center for casual driving, but input stiffens up naturally in athletic driving, it goes where you point it, and there was plenty of feedback for adjustments, like dodging a pothole in the corner or even feeling the tires slipping over gravel. It's communicative enough to keep you aware of the limits of grip and let you catch the countersteer when you "accidentally" slip the tail end out in one of those large European traffic circles.

It's a good system. It's still not the princess and pea, but it's come a long way from feeling like trying to grab the biggest teddy bear in the claw machine.
A lot of the fun of the car comes from how satisfyingly capable it is at flying into a curve, tightening up and then launching you back out, which is how it feels even in the diesel car thanks to the upgraded chassis and improved standard suspension that can comfortably soak up a surprise speed bump without even hitting the bump stops.
I don't remember being rocked around too much in aggressive driving, in part thanks to some finely bolstered chairs and the traditionally good BMW driving position, and I felt like I was always angled and positioned with the car, instead of feeling like the car was moving independent of me, like fresh sneakers on a freshly buffed court. It didn't feel big nor heavy despite the dimensions growing, and it handled like it was just eating up the road beneath me.

At highway speeds there is a little bit of wind noise from somewhere above the A-pillar, and BMW has tried to mitigate it with new standard acoustic glass in the windshield. With the radio off, I also experienced a noticeable amount of tire noise, but didn't notice it with music playing even at a low volume.
The new interior is simplified and streamlined, with BMW's new widescreen interface with iDrive 7.0 and the new digital driver display setup with inverted speedometer and tachometer to make room for a navigation map right in front of the driver.

The heads-up display is now also huge and adjustable, but still doesn't work well with polarized sunglasses, and kind of makes most of the information in the driver display redundant, which is a good thing. It's nice to get the speed warnings and nav directions without ever having to move your eyes away, or while your co-driver is busy trying to figure out the infotainment system menus.

On The Track
The highlight of the trip was the 10 laps of the Algarve International Circuit in a prototype M340i xDrive, which coincidentally is also where I lapped the 2018 Jaguar I-Pace earlier this year.
The I-Pace, rather obviously, just doesn't compare to the M340i, and it's incredible how much shorter a track can feel when you're in a truly quick car.
The first five laps I was behind former Formula One driver Timo Glock in an M2 Competition pace car, who showed off by getting sideways a lot. As good and as quick as I found the 330i to be on the street, the M340i feels ballistic, and I really can't doubt BMW claims it has a 0 to 60 mph time of 4.2 seconds or quicker. Remember, this thing has nearly 400 horses now, and it feels like it.
Considering the short amount of time we had on track, I really only focused on whether or not the M340i could prove to me that it'd be worth the bigger sticker price over the 330i. For that answer to be yes for me, it had to not only feel almost immeasurably more powerful, but also have a bit of an edge to it that made it more rewarding to drive.
Algarve is a great track, probably most notably for its rather extreme and sudden elevation changes offering plenty of force-shifting blind corners. Of course, I had a pace car and some strategically placed cones to guide me along, as well as my new friend Timo on the radio giving me a turn-by-turn guide.

The first five laps were fun, and then the radio instructions dropped off and I hit the DSC button once to partially disable it. Then the rear-biased all-wheel drive system got very rear-biased and we started to get sideways.
While there were a few slow corners that resulted in a touch of understeer, it was nothing extreme or discouraging and probably more a symptom of me trail-braking a little too far into the corner while trying to keep an eye on the YouTuber in front of me that kept steer-slinging the car into getting its rear-end out, which wasn't exactly necessary.
With DSC in the sport setting, getting sideways is so easy it almost feels like a Chris Harris simulator. You turn into the corner, power out and you can feel the moment the wheels start to slip and the weight of the car casually shifts. The cliché line is that it felt like a dance, but hey, it did.
As somebody who isn't constantly trying to force a car sideways all that often—I prefer to keep any drifting to my personal time, you see—the M340i feels telepathic. Having hit 143 mph on the straight, it's good in a straight line, too. It never quite had the edge I was looking for, but maybe turning DSC all the way off would do the trick. Either way, I can't wait to get back in this car and try it again.
What's Weak
Two things I didn't love about the new 3 Series were made abundantly obvious in the lap time. The steering wheel is too thick—I'm somewhat obsessed about why steering wheels are getting so thick and nobody will tell me a good reason why—and I think it could even be part of the steering feedback complaints BMW is trying to fight off.
The second obvious thing from the track was the piped-in engine and exhaust noise. While the note itself is very good, its clarity and purity is distractingly strange and synthetic.

Other than that, I was disappointed with some of the interior finishes on the car. Some of the trim is a silver plastic with a black trapezoidal pattern that's just bad, like a low-res inverted attempt at mimicking carbon fiber or something. I was also confused as to why every single car I drove—the 320d, 330i and M340i—all lacked passenger door lock/unlock buttons, but had a dead panel insert instead. Why can't my passengers unlock the doors?
None of the cars I drove had any sort of glass roof or sunroof optioned, and the interior felt very dark and slightly oppressive even in broad daylight as a result. I would opt for letting more light in if you can squeeze it.

There's also a new BMW personal assistant in the car that's supposed to be like the iPhone's Siri, but it completely lacks the functionality it needs to be useful and the polish to be intuitive. To activate it, you say "Hey BMW" followed by a list of commands, like, "I'm cold," and it will turn the temperature warmer and even activated your heated seats on the lowest setting. If you tell it "I'm tired," it blasts electronic music and cold A/C for a few minutes. It's a hell of a party trick.
But if you tell it to change your steering mode to "Sport," it neither changes it nor takes you to the appropriate screen to change it. Instead, it presents a list on the screen on how to navigate manually to the right menu, which completely defeats the purpose of a voice-activated assistant.
You can also change the activation phrase for it from "Hey BMW," to something like "Hey Daddy," as one group did. Another group changed it to, "Hey Now, You're An All Star." I would not recommend this.
About That Lack Of A Manual
For a long time, the 3 Series was the car everybody pointed to as the most fun in its class not only because it was more refined, better to drive and just damn popular, but sometimes simply because it was the best of a dying breed of accessible manual cars. And now even it's dead.

Fortunately for those who are going to go out and buy one anyway, the ZF eight-speed automatic is still fantastic, tuned again to be even sharper, even quicker, and even more distracting from the inherent sadness of relegating driver control to two paddles hidden behind the steering wheel. How am I supposed to impress my passengers with my ability to seamlessly downshift? How else will I feel like Jason Statham during a bank heist?
But BMW would tell you it's better this way. It makes for faster shifts, quicker acceleration, and better sprint times to highlight in press releases. Behind closed doors, BMW would also probably point to class competitors that have dropped manuals with virtually zero impact on sales. And then it would point to the M4, which will keep the manual for at least this next generation.
But it's open season on the stick shift, more than ever. Now other automakers won't have the 3 Series to point to as reason enough for competing with a manual. Maybe the Genesis G70 will be the last stick that isn't behind a six-figure paywall, and good for it. (Correction: This review previous mentioned the Giulia was also available with a manual in the U.S. It isn't. Sad.)
Eventually it'll be electric cars that kill manuals forever, as they don't even really need gears as we understand them, but for now this is a big nail in that coffin.
It would have been really nice to get this one last generation of the 3 Series with the option, especially with all of its improvements and when they're throwing out that Ultimate Driving Machine slogan again. But it really seems like they've moved on, and the cars are a little bit quicker for it—and we're all a little bit sadder.
Early Verdict
The fact that the manual is gone from everything, except maybe the M3, sucks because the new car is engaging, tactile and rewarding to drive, and a stick would only elevate it.

BMW's decision to axe it goes against Road & Track's claim that nearly 25 percent of six-cylinder F30s were sold with a manual, and it doesn't even connect with BMW's own messaging of returning the G20 3 Series to its sports sedan roots with power upgrades, tweaked steering and a sharper chassis.
However, ever since the new 3's debut, BMW has been aggressively coy about the prospect of the next M3 getting a manual, and again, it's promised to keep it around for the next M4. It's definitely not gone for good, it's just going to be relegated to the sportiest tier.
And the lower models still get more power than before, a great 8-speed automatic transmission, a super-soaker chassis setup that's finally comfortable without punishing me for wanting to be a little silly, improved steering and a rewarding driving experience that will justify going out to drive for the sake of it.
BMW has managed to get enough of the classic 3 Series characteristic into the 330i and even the 320d to make it seem like everybody wins, even if you can't afford the biggest sticker on the lot.
Maybe the greatest gift BMW ever gave the used F30 market is a manual transmission, but the G20 is going to be one hell of a lease for everyone else.
2019 BMW 3 Series 330i Sedan Specs
Engine type
Intercooled Turbo Premium Unleaded I-4
Transmission/Drive
Automatic w/OD