They say there's no school like the old school and they don't get much more aged educator than today's Nice Price or Crack Pipe Caprice wagon. Let's see if its price equally stands the test of time.
When I was growing up people used to tell me that life was difficult and that there were no easy answers. That kind of pissed me off since I'm pretty lazy and really would love for shit to go down without much drama or the need to, you know, think.
That's why yesterday's 1996 Mazda Miata was such a breath of fresh air. I mean, a running, seemingly complete and not too banged up M-edition for $2,400? And it's not filled with poo-flinging ebola monkeys or Ted Cruz? Where do I incuriously sign? Fully 75-percent of you agreed that easy is the answer and that MX5 survived the day with a Nice Price win.
And now for something a little more difficult.
Do you want to teach a little history to your kids? Or perhaps to your nieces and nephews or younger siblings? Hell, maybe its those jackanapes down the street, the ones that keep saying fuel injection is better because carbs make you fat?
G/O Media may get a commission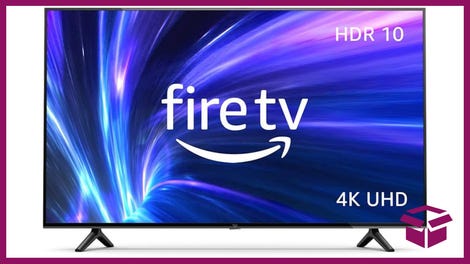 42% Off
Amazon Fire TV 50" 4K Smart TV
Well, have I got a lesson for you. Check out this 1991 Chevy Caprice wagon. This car rocks some cool custom bodywork, an LT1 V8, and a bunch of features you just don't see anymore.
The first of those is the fact that it's a big-ass wagon, which no one is really making these days. There is the Ford Flex, but I don't know if that box really counts.
Still, anyone yet to achieve drinking age has probably never even ridden in something like this. And bench seats front and back? Get outta town, Doc!
This Caprice has another seat that's a pretty rare commodity these days too—that being its rear-facing third row. The say hindsight is 20/20 and this Chevy lets at least two of your traveling companions gain ultimate enlightenment under that back hatch.
The last really old school feature here is the use of manual windows. Most kids these days are used to de-farting a car at the simple push of a button, maybe even one-touch to free both hands for fanning duty. This Caprice requires manual labor to lower or raise the glass, which could potentially turn it into a dutch oven if you missed arm day that week.
This is a great visual aid for teaching the kids what it means to "roll" down the window. They'll feign appreciative interest and then go back to snapping their chats or whatever they do these days. You'll still realize the simple satisfaction of having imparted an important piece of automotive history to a new generation. It's the little things in life.
This Caprice isn't one of those little things. In fact, it's all kinds of amazing that Chevy even built a car of these proportions with wind up windows. I can't fathom how you would reach the passenger side from a belted driver's position to crank up the window in the event of something like a bee attack. The cloth seats don't really afford much sliding support either. They do look to be in serviceable if a bit tacky shape.
The rest of the interior is okay, although I can't figure out why most of it is blue but the door cards are grey. I do like how the seller notes that it comes with a Grant steering wheel, like we haven't all been to Pep Boys. And yes, that's a Kid Rock CD in the back seat. Boom.
The exterior seems to be where some money was spent here. The car is dropped a bit and features tinted glass all the way around. The front end features a bumper cap with fogs while out back—and it's a walk—there's a tucked rear bumper that shaves a few inches off the overall length. The paint is serviceable, and the white wall tires on steelies give the car a good look.
The ad notes that the four-speed automatic has been rebuilt and that's mated to a "recent LT1 350 5.7 IMPLANT." There's no word on where that LT1 originated, nor exactly which LT1 it is. Aluminum or iron heads? Two or four bolt mains? Who knows?
What we can tell is there's plenty of room under the hood for whatever edition that is, with enough left over for plenty of wiring unencumbered by its loom. This is not a tidy engine bay, but it is one with potential. The ad notes that the A/C works and that the car comes with new tires and a clean title.
The asking price is $4,995, and the reason for selling is that it represents one too many projects for the present owner.
What's your take on this lesson-giving Chevy and that $4,995 price? Is that a deal to take someone to school? Or, is that too much to become teacher's pet?
You decide!
Spokane, WA Craigslist, or go here if the ad disappears.
H/T to Fauxshizzle for the hookup!
Help me out with NPOCP. Click here to send a me a fixed-price tip, and remember to include your Kinja handle.