Little miss muffet may have suffered from arachnophobia, but today, Nice Price or Crack Pipe has a fly-yellow Alfa that can sit on our tuffet any time it wants.
Rarely does a group as disparate as this join together as one in a collective dry heave of revulsion over a contender, but that's what yesterday's Auto Zoned-out Jeep Grand Cherokee engendered in 93% of you. To clear that acrid taste form your mouths, today we're going to look at a lovely latin- one you wouldn't be surprised to find sunning topless in San Tropez.
Not San Tropez, but sunny Brentwood California was where disillusioned and kind of creepy Ben Braddock bedded his father's business partner's wife, and then attempted to do the same with her daughter in the movie The Graduate. As played by Dustin Hoffman, Ben's unrequited advances upon daughter Elaine required multiple trips between LA and Berkeley, which were accomplished to the toe-tapping sounds of Simon and Garfunkel, and in an Alfa Romeo boat-tail Duetto. That was back in 1967, and for the next 26 years, the Alfa spider creaked along, receiving the occasional egregious body appendage and cabin-confining safety equipment. In the late '80s, Alfa set to the task in replacing the aging Giulia spider with a new, front-wheel drive car that would meet all the requirements of a modern automobile, and would put them in good stead against competitors from BMW and Mercedes.
G/O Media may get a commission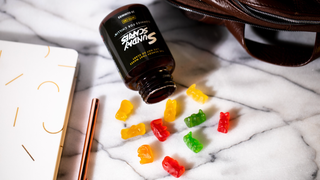 10mg CBD Gummies (22-Count)
That car went by the internal model number 916, and was designated in the market as the GTV (in 2+2 coupe form) and Spider (for the 2-seat droptop), both based on the Fiat Tipo platform and featuring a choice of transverse 4 and 6-cylinder engines. Introduced in 1995, these cars were designed with the North American market in mind, however Alfa Romeo folded their tent here before the cars could launch. They did debut elsewhere, and were reasonably successful in the market for the next 10 years.
This yellow 1998 Spider has been spinning its webs in Oregon - where it is claimed to be legally licensed - and has an asking price of $24,950. It has the 1,747-cc Twin Spark 4-V engine, which is good for about 145-bhp. That's due to the variable valve timing and multi-length intake runners which provide, not only a healthy power output, but a flatter torque curve than you would expect out of an Italian four cylinder. Despite that, the variocam is a maintenance issue on these engines, and, like waterpumps, you should replace the variator when you do the timing belt, just in case.
The interior is in excellent shape, but the fight-club black and blue color choice is a bit strange. The Spider is strictly a two-seater, and the roof is made of traditional canvas rather than the metal that is fashionable in today's upper-end drop tops. But that just makes this car's appearance all the more unique. And unique it is with a Pininfarina-designed wedge shape that is still arresting today, 14 years following its launch. There don't appear to be any major issues with the body, nor do the double-five spoke alloy rims seem to have been curbed at any time. The 33,000 kilos on the clock indicate that there hasn't been much opportunity for either to have happened.
With the exception of the rare and expensive 8C, Alfa Romeo doesn't appear to be making a comeback in the U.S. anytime soon. This lovely and, potentially equally rare, spider may be one of the few ways to get into a modern Alfa here, and as the saying goes- you're not a true car person unless you've owned an Alfa. So what do you think of that $24,950 price? Does that put the curds in your whey? Or, like the tuffet-warming miss, does that amount scare you away?
You decide!
Grand Prix Imports or go here if the ad disappears.
Help me out with NPOCP. Click here to send a me a tip, and remember to include your commenter handle.