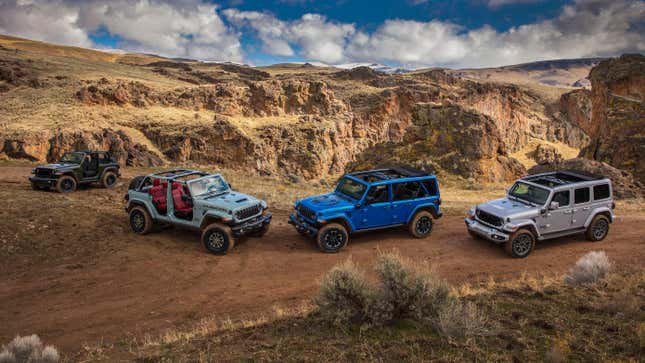 Editor's Note, Wednesday April 5, 1:40pm EDT: This article was originally published on April 5th at 11:35am with the headline "The 2024 Jeep Wrangler Will Finally Offer a Six-Speed Manual With the Turbo Four-Cylinder Engine." Unfortunately, this is not true: A Jeep representative just contacted Jalopnik to clarify that, as has always been the case with the JL-generation Wrangler, the six-speed manual transmission will only be available with the standard 3.6-liter V6, not with the upgraded 2.0-liter turbo four-cylinder. In Jalopnik's defense, the press release originally published by Jeep reads "The advanced 4xe lineup and high-performance Rubicon 392 come exclusively with an eight-speed automatic transmission, while the 2.0- and 3.6-liter gas engines offer both a six-speed manual transmission and an eight-speed automatic transmission," emphasis added. A Jeep representative confirmed to Jalopnik that, elsewhere in the same press release, the text correctly states "the 3.6-liter Pentastar V-6 engine comes standard with a six-speed manual transmission or an optional eight-speed automatic transmission," with every other drivetrain option (2.0-liter turbo 4-cylinder, plug-in hybrid, or 6.4-liter Hemi V8) specifying an eight-speed automatic as the only available transmission. Jalopnik apologizes for getting excited about a new manual option that doesn't actually exist, and Jeep has apologized to Jalopnik for the confusion caused by the unclear wording of the press release, which has been updated. Sorry for the bad news, everyone.
Jeep provided the following statement to Jalopnik: "The new 2024 Jeep Wrangler has the most powertrain options in the off-road segment. To clarify, for 2024, the 2.0-liter turbo will be mated exclusively to the eight-speed automatic transmission. The manual transmission will be available exclusively with the 3.6-liter V-6."
Below is our original article as it was published on April 5th at 11:35am EDT. The parts mentioning the 2.0-liter/manual drivetrain have been crossed out.
Jeep is giving its JL Wrangler a fairly sizable update for the 2024 model year, but don't worry — it still looks exactly like a Jeep Wrangler. The automaker promises that the refreshed SUV is going to be the most off-road-ready Wrangler yet, while adding more creature comforts to the cabin. On top of that, we're getting a couple new models to add to the Wrangler's lineup, and you'll now be able to get a manual transmission with the turbo four-cylinder.

Off-Road Improvements for the 2024 Wrangler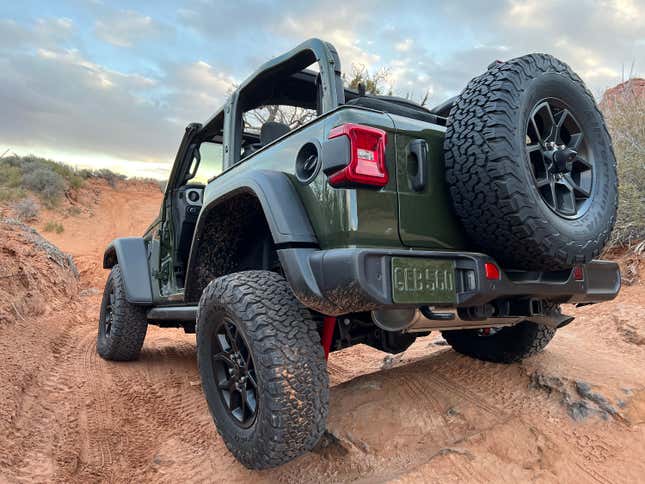 Going off-road is what the Wrangler is all about, and Jeep has decided to make it even easier for owners by adding a few new pieces of kit to Rubicon models. The automaker says you can now equip your Wrangler Rubicon with a full floating Dana 44 HD rear axle – a beefy axle design normally found on heavy-duty commercial trucks. According to Jeep, the new axle is extra strong for folks who want to throw bigger aftermarket tires on their rigs, and gives the updated Rubicon a 5,000-pound maximum tow rating. If you do happen to get your Rubicon stuck, Jeep says you can now get a factory-installed 8,000-pound Warn winch. That should be enough to make up for your inevitable off-road screwups.
The Rubicon isn't the only Wrangler getting off-road upgrades, though. 2024 Wrangler Willys models now come with 33-inch tires (one inch bigger than last year's), plus raised fender flares for better tire clearance.
The 2024 Wrangler from the Outside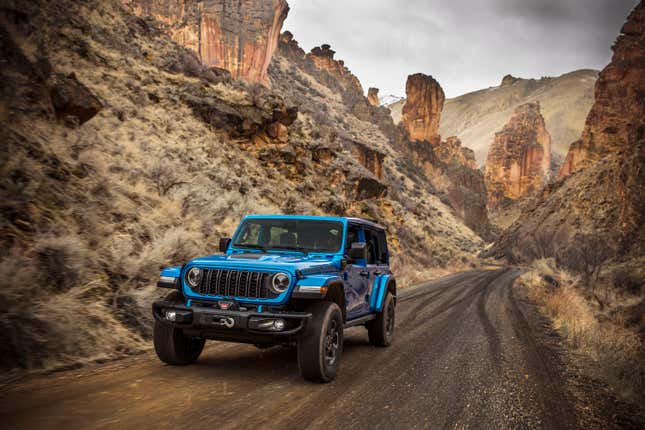 From the outside of the 2024 Wrangler, not too much has changed. That isn't too much of a surprise. That being said, there are a handful of changes for this mid-cycle refresh.
The first one you'll notice is that the iconic seven-slot grille gets a subtle update. For 2024, all Wrangler models will get the grille-within-a-grille design first seen on the Rubicon 20th Anniversary released earlier this year.

Along with that, there are 10 new wheel designs ranging from 17 to 20 inches in diameter. Jeep has also brought the Wrangler into the 21st century by nixing the old-fashioned radio whip antenna in favor of an integrated antenna in the windshield glass.
2024 Jeep Wrangler Interior and Tech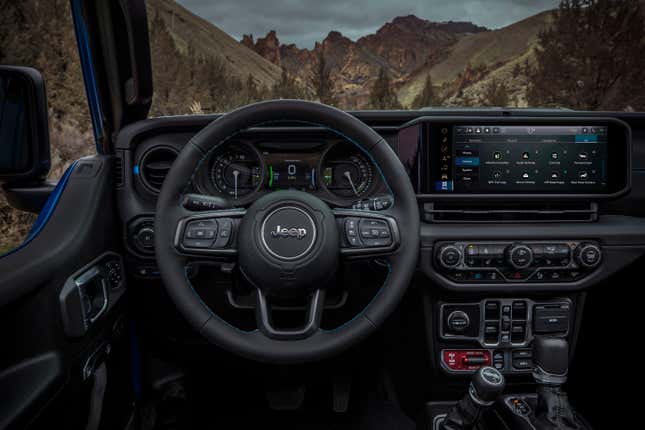 The interior of the 2024 Wrangler sports some pretty significant tech updates. The big headline here is an all new 12.3-inch dashboard touchscreen running Stellantis' UConnect 5, bringing the Wrangler up to speed with a newer, faster screen and updated graphics to match the rest of the Stellantis lineup.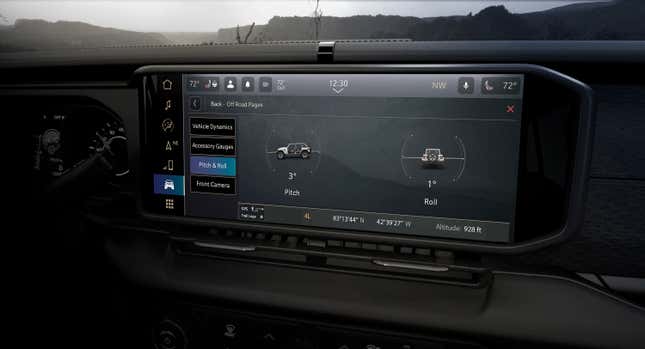 Jeep says that the new system will also come with Trails Offroad, a built-in app that will guide drivers through 62 "Jeep Badge of Honor" off-road trails. If those 62 trails aren't enough for you, there's an upgradable subscription available that'll unlock a full catalog of over 3,000 trail guides to make sure you never get lost while off-roading.
Buyers will also be able to choose available 12-way power adjustable front seats. Jeep even says the seats are tested for water fording, so don't get too worried about frying the electronics if that water crossing is a little deeper than you anticipated.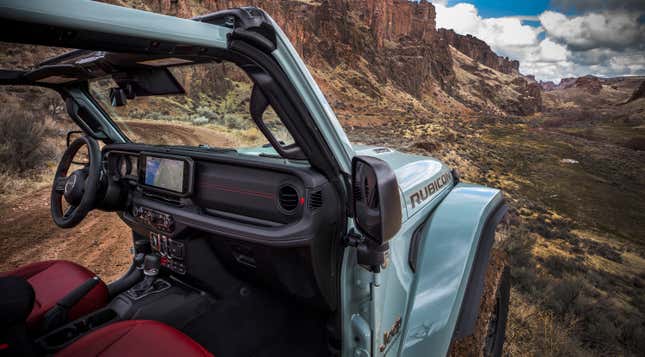 In terms of safety, for 2024 the Wrangler adds standard first- and second-row side-curtain airbags. At the Sport S trim level and above, you'll now also get standard collision warning and standard radar cruise control that'll bring you all the way down to a stop. The automaker goes on to say that blind-spot warning, cross-path detection and park-assist are now standard on High Altitude, Rubicon X and Rubicon 392 models, and optional on lower trim.
New Wrangler Models for 2024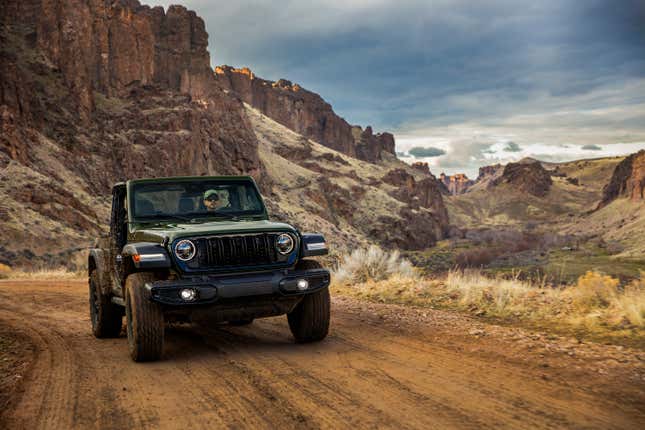 Along with the cosmetic changes for 2024, Jeep is also adding a couple new models to the Wrangler's sizable lineup. New for 2024 is the Sport S 4xe and the Rubicon X.

The Sport S 4xe is exactly what you think it is: A more affordable trim level of the plug-in hybrid 4xe (exact pricing has not yet been announced). Right now, the cheapest Wrangler 4xe you can buy comes in Willys guise and starts at a little under $55,000. More electrification is never a bad thing.
As for the Rubicon X, you can think of it as a Rubicon turned up to 11 with a few optional features baked into the package. It comes with an integrated off-road camera, steel bumpers, and, on non-hybrid, automatic-transmission models, 35-inch tires from the factory (upgraded from 33s). Inside, the Rubicon X gets acoustic glass and a nine-speaker Alpine audio system as well as Nappa leather seats.
2024 Jeep Wrangler Powertrain Options And More Manual Transmissions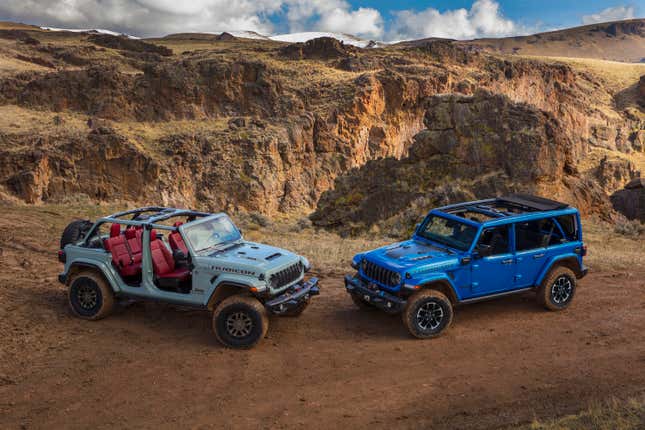 Jeep expects hybrids to be a big part of its future. In fact, the automaker says that by 2025, every model in the North American Jeep lineup will have some sort of electrified drivetrain available. And that's just the start: By 2030, Jeep expects half of its sales in the U.S. will be fully-electric vehicles.

This push for electrification means Jeep can now offer a "Power Box" on Wrangler 4xe models. It's basically four 120-volt power outlets which allow you to use the plug-in hybrid battery to power your electricity-hungry devices. This isn't really anything new in the automotive world, but it's a neat feature and a cool party trick.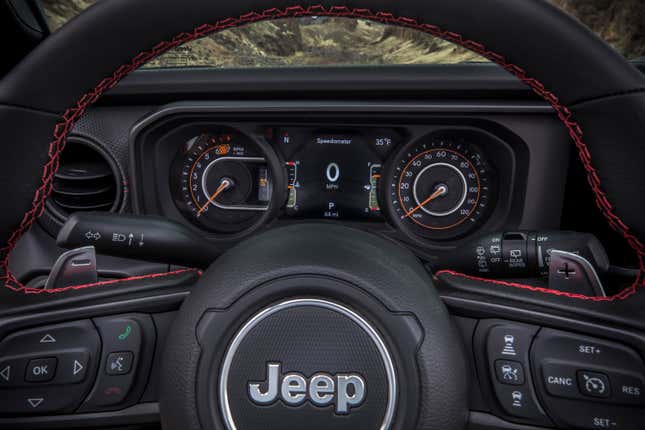 The other big change coming to the Wrangler lineup is decidedly old-school: More manual-transmission models. Previously, the six-speed manual was only offered with the base 3.6-liter V6 engine. For 2024, the 2.0-liter turbo four-cylinder now gets a manual option. Oh, happy days! I'm sure this has nothing to do with the fact Ford offers a manual transmission on 4-cylinder and V6 Broncos. (If you want a Hemi V8-powered Wrangler 392 or a hybrid 4xe, sorry, you're still stuck with an automatic only.)
Things change a lot in this crazy world of ours, and that makes the Jeep Wrangler's steadfastness all the more comforting. It's our one piece of consistency… for now.