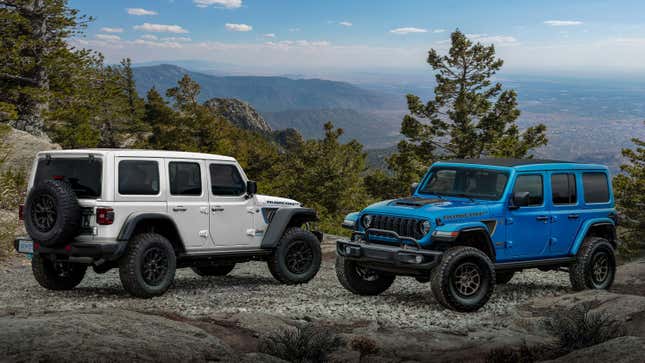 Jeep is throwing the Wrangler Rubicon a party now that the off-road icon is in its 20th year of production. The celebration comes through a release of the 2023 Jeep Wrangler Rubicon 4Xe and Jeep Wrangler Rubicon 392 20th Anniversary Editions, as well as a gnarly optional package Jeep calls the Level II Upfit.

This will be limited to 150 units and carries a hefty premium over standard anniversary models, but promises to make for the most capable Jeep Wrangler from MOPAR, riding on 37-inch tires and heavily upgraded suspension from American Expedition Vehicles.
Going back to its debut at the turn of the millennium, the Wrangler Rubicon was arguably the first production Jeep to boast the capability that enthusiasts yearned for, and for which fans of the Wrangler turned to the aftermarket to achieve.
Before 2002, there were print magazines, catalogues and tomes dedicated to turning the Wrangler into the best version of itself thanks to aftermarket parts and upgrades. Hours and hours of the day were well-spent ogling at Mickey Thompson wheels, chrome bull bars, Hella lights, and suspension parts to outfit the perfect Jeep.
But then the Wrangler Rubicon showed up, so-named after the Rubicon Trail in the Sierra Nevada Mountains in the U.S. — rather than the famous Roman river. The nameplate carried that same sense of crossing over a point of no return, except the Wrangler Rubicon had the capability to go over that threshold and back again straight from the factory. Here's a brief look at the Rubicon's progression, leading up to the 20th Anniversary Editions: