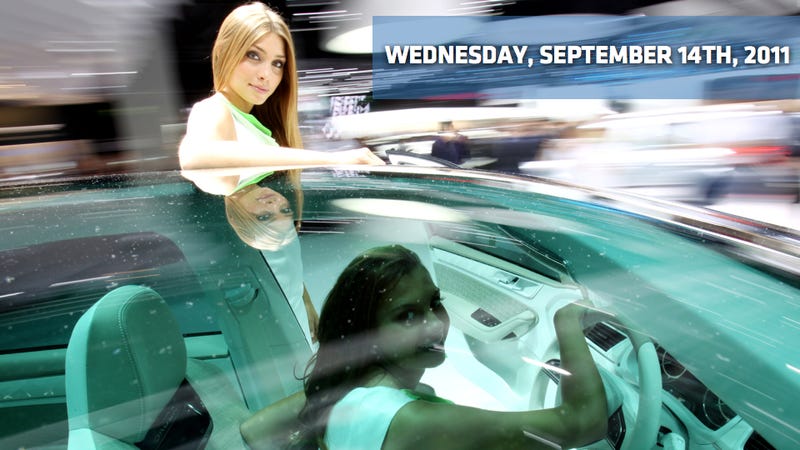 The Morning Shift
All your daily car news in one convenient place. Isn't your time more important?
This is the Morning Shift, our one-stop daily roundup of all the auto news that's actually important — all in one place at 9:00 AM. Or, you could spend all day waiting for other sites to parcel it out to you one story at a time. Isn't your time more important? Since today's the second day of the Frankfurt Motor Show, we've decided to make the top six stories the six most important unveilings from day one of the show. The rest of the news is in "Reverse."
---
1st Gear: Ford Fiesta ST concept foretells future hot hatch
Don't ask when, or how much, but this is happening: Ford will build a hot-hatch version of the Fiesta under the ST line that will sport a 180-hp turbo engine. More »
---
2nd Gear: The new Porsche 911 is a better 911
The 997's seven years are now officially over. The new Porsche 911 - 991 to Jalopnik readers - is very much like all 911's over the past 48 years. More »
---
3rd Gear: Kia GT Concept: Korea's next step in design domination
Making the first Euro-style GT is an important guidepost in the life of every Asian car manufacturer. 46 years after Toyota first showed the 2000GT concept at the Tokyo Motor Show, Kia has unveiled its own here at the Frankfurt Motor Show, called simply the GT.
Unlike the 2000GT, it's not a... More »
---
4th Gear: Volkswagen Beetle R is very shiny, but we can live with that
It's got more chrome than Elvis had themed bedrooms, but it's nothing a little dirt couldn't fix. Underneath, the Beetle R is something we'd no doubt consider taking home for a little of the old paddle shift, know wot I mean? Unfortunately, for the moment, the AWD Beetle R is merely an... More »
---
5th Gear: Maserati Kubang SUV is imported from Detroit
Turns out Europe's Photoshopping prognosticators didn't need to create a mockup of the upcoming Maserati SUV concept - the brand's first ever - More »
---
6th Gear: The Jaguar C-X16 concept is one tight pussy
Listen, Jaguar's next car is going to punch pretty much every other car right in the sack, looks-wise. Performance wise? With the KERS-like, electric push-to-pass button, the Jaguar C-X16 can challenge a Porsche 911. More »
---
Reverse:
⏎ Bob Lutz criticizes Jennifer Granholm for pursuing Toyota engineering center. [Ann Arbor]
⏎ Jefferson North plant expects to add jobs if Maserati is a hit. [Detroit Free Press]
⏎ Infiniti could share Mercedes small-car platform. [AP via Houston Chronicle]
⏎ Ford, UAW Agree to Bargain Past Tonight's Contract Expiration. [Bloomberg]
⏎ Engine Makers' New Math. [Wall Street Journal]
⏎ Porsche Bets on Faster $123,000 Iconic 911 to Revive Stock. [Bloomberg]
⏎ The challenge of a 'Vette redesign: Don't screw it up. [Automotive News]
⏎ Fiat, Chrysler CEO affirms goal of 6M cars a year. [AP via Bloomberg]
⏎ Mercedes Renews Small-Car Push. [Wall Street Journal]
---
Today in Automotive History:
On September 14, 1927, dancer Isadora Duncan is strangled in Nice, France, when the enormous silk scarf she is wearing gets tangled in the rear hubcaps of her open car. ("Affectations," said Gertrude Stein when she heard the news of Duncan's death, "can be dangerous.") [History]
Show us your tips!
Got tips for our editors? Want to anonymously dish some dirt on a competitor? Know something about a secret car? Email us at tips@jalopnik.com.
Lost in our new layout?
Click here for the Opposite Lock or Tips forums. Want a more "blog-like" look? Click the button up top next to "Top Stories."
Get more Jalopnik!
Want even more Jalopnik? Want to know which of your friends read us? "Like" us on Facebook and follow us on Twitter.
---
You can keep up with Ray Wert, the author of this post, on Google+, Twitter or Facebook.