Two months ago we showed you the first sketch of the Jaguar C-X16 production concept car. Now that we have these very first pictures and details of this pretty-kitty precursor to a future hybrid-powertrain-driven Jaguar sports car, we find ourselves legitimately excited at the idea of a hybrid. Here's why.
The Ford Taurus Is Reborn — But Only For the Middle East
For starters, the sheet metal of this front-engined, rear-wheel-driven C-X16 was designed by the same Ian Callum-led team that brought you the Jaguar XJ, XF and XK. Fercrissakes, just look at it — there's no denying that this two-seater pussycat's one sexy little furrball.
Pop the hood and you'll find a prototype supercharged all-alloy V6 mated to an eight-speed tranny producing 375 HP and 332 lb-ft of torque. But this isn't just a supercharged version of the same 3.0-liter V6 they're using in the base model of overseas versions of the 2012 Jaguar XJ. No, Jag's claiming it's a modular development of Jaguar's AJ-V8 and an all-new powerplant.
G/O Media may get a commission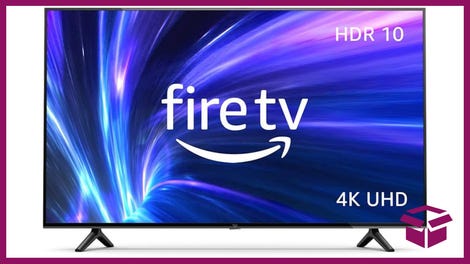 42% Off
Amazon Fire TV 50" 4K Smart TV
But if the supercharging ain't enough for you, Jag's supplementing that itty-bitty V6 with a conceptual electric motor they claim can produce up to 94 HP and 173 lb–ft of torque. The best part? It's available to the driver at the push of a steering-wheel boost button they call "Push to Pass."
That's right, this supercharged Jaguar's got a KERS hybrid "turbo" boost. How cool is that? Also, note that we didn't call it "KERS-like" — because Jag's actually saying it's a KERS.
The purpose of this hybrid system isn't just for "go" it's also for marketing and zero-emissions "show": to reduce fuel consumption; and to allow the C-X16 to perform as a zero-emissions electric vehicle at speeds of up to 50 mph on low throttle openings. So, yeah, that part? That feels like kind of a hack.
But whatever, shiny pretty thing we want to pet and love and make our own and never-ever let go. Especially when we note the amazing 0-to-62 mph time of just 4.4 seconds, a governed top speed of 186 mph and roll-on acceleration of just 2.1 seconds between 50 and 75 mph. Lenny like. Lenny like a lot.
We'll be seeing it live next week at the Frankfurt Motor Show — hopefully, like when meeting an OKCupid date for the first time, we won't feel cheated by the pictures.
Because damn, those pics are hot.