The 1984 Olympic games were boycotted by 14 Eastern Bloc nations. While the Soviet Union failed to show up, Auto Union did, and today, Nice Price or Crack Pipe has an Olympic Audi that's ready to go for your gold.
On Thursday, the Franken-rover went nearly 50/50 in a nail-biter of a contest that will have to be reviewed by the judges in order to determine the winner. Now let's take a look at a 25 year old Olympian. She may be past her prime in this event, so we'll see if she sticks the landing.
When releasing their super light weight, aerodynamic large sedan in 1984, Audi rechristened it 5000 in an attempt to exorcise the ghosts of 100s past. As Audi has had an undeniable relationship with the Olympics - forged both through similar interlocking ring logos and 1930s propaganda efforts by the guy with the funny mustache - it seemed natural to do a run of special Olympic tribute 5000 turbos for the '84 games. Obviously aware of its future collectibility quotient, this seller has been waiting 25 years for just the right moment to place this pearlescent white long-distance runner on the starting block. And at a $19,500 starting point, he's not looking to take home the bronze.
G/O Media may get a commission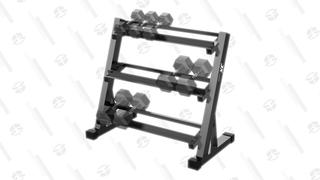 20% Off
JX Fitness Dumbbell Rack
Gains but tidy
Has a three-tier design to help store more weights more conveniently, can safely support up to 1000lbs of weight, which should be enough for most people, has a triangle base for stability, and also features anti-scratch feet which is great if you've built your own studio or workout in your garage.
This Audi is a pastiche of '80s era goodness- from the collie-sized cell phone, fax, dial-up Internet, and trunk-mounted boomerang antenna for the tiny TV, it reeks of what was high-tech at the time. Add to that the rainbow coalition Cali plates, and commemorative special olympics plaque and it's ROQ of the '80s all over again.
That goes for the 5000 turbo as well. The 2.2 litre 5 cylinder (because 4 ist too small, und 6 ist too large. . .) pressurized engine is good for about 160 Pferde and it's got that cool door glass that goes up the outside of the frame for a flush appearance. This was a car that defined aerodynamic styling for much of the decade. The only thing missing is the other thing for which Audi is known- Quattro all wheel drive. This is only a front driver, but hey, it's LA, and when would you ever use it?
So, does that $19,500 for this #58 out of 100 score a perfect 10 for you? Or does that price send it home medal-less?
You decide!
eBay, or go here if the ad drops out of contention. Thanks to the new guy who doesn't have a handle yet for the tip!
Help me out with NPOCP. Click here to send a me a tip, and remember to include your commenter handle.