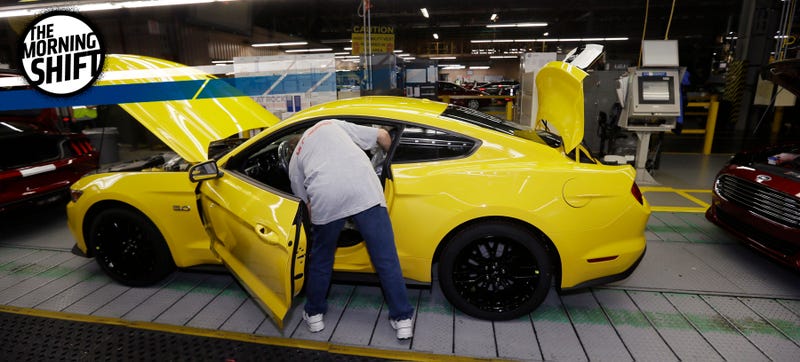 Good morning! Welcome to The Morning Shift, your roundup of the auto news you crave, all in one place every weekday morning. Here are the important stories you need to know.

1st Gear: Get A Job! This Job
Automotive News today has a intriguing story that you should read in full about the state of jobs in the auto industry. Basically, it needs people. Specifically engineers, at both the car companies themselves and their suppliers, but there's also a big demand for skilled trade workers too.
As we've covered on Morning Shift before, a lot of this has to do with a generation of engineers who only think of tech as software development rather than vehicles or manufacturing, so they get lured to Silicon Valley after graduation instead of Detroit. That's certainly understandable given everything the auto industry has endured in the last few years, but hey, somebody's gotta make the cars:
Engineers are in high demand by auto suppliers and manufacturers, which are fighting harder than ever to fill positions to match advancing vehicle technology and manufacturing processes.

Since 2014, auto suppliers' most-advertised U.S. auto manufacturing job has been computer systems software engineer, according to global job site aggregator Indeed.com. The position remained on top while its number of postings rose 84 percent from 2014 to 378 postings on June 31, 2016.

Computer systems software engineers also top the list for automakers this year. Data from the Detroit 3 through June showed the same four engineering positions among the five most-advertised positions since 2014 on Indeed: mechanical engineers, software quality assurance engineers and computer application and systems software engineers.
2nd Gear: Volkswagen Halts Golf Production Amid Supplier Dispute
I don't know if you heard about this or not, but Volkswagen is kind of strapped for cash at the moment, because reasons. Lately the automaker has asked its suppliers to cut their prices in an effort to reduce costs. The suppliers aren't too keen on that.
As a result, production of the Golf has stopped at the main Wolfsburg plant, reports Automotive News:
VW said Golf production was being hit because supplier ES Automobilguss has stopped delivering cast iron parts needed to make gearboxes. Car Trim, a sister company of ES Automobilguss, stopped deliveries of seat covers earlier this month. Both firms are part of Wolfsburg-based Prevent DEV.

German press reports said the dispute involves a payment disagreement over a joint venture and price cuts demanded by VW, which is seeking to reduce costs amid its diesel emissions scandal.

VW is considering "every legal means at its disposal" to force the suppliers to meet their delivery commitments, multiple German media outlets reported today.
This dispute could cost VW as much as $45 million a week. That's a lot of Golfs!
3rd Gear: Germany Clears Repairs On VW's 2.0-Liter Engines
Speaking of Dieselgate, Germany's motor vehicle authority KBA approved fixes on another 140,000 2.0-liter diesel cars, and the new total should give you an idea of how many diesel VWs get sold in Germany and the rest of Europe. Via Reuters:
The number of Volkswagen (VW) vehicles cleared for repair by the KBA since the start of the year has risen to about 5.2 million, the spokesman told Reuters on Thursday.

Approval by Germany's KBA is valid for countries throughout Europe, where 8.5 million diesel cars are affected by VW's emissions-test cheating scandal. About 11 million autos are implicated globally, including 475,000 cars in the United States where the manipulations came to light last September.
4th Gear: The Future Of Cadillac Design
Have you seen the Cadillac Escala concept unveiled at Pebble Beach last night? I like it quite a bit. It's handsome, sleek and futuristic in the right ways. Here's Cadillac bossman Johan de Nysschen in The Detroit Free Press on where it's going: