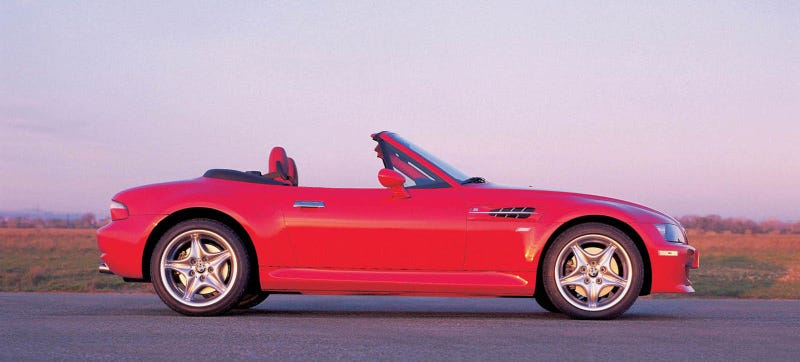 You're at a car thing, wearing your "I Heart LSD" shirt and proudly displaying your alternator tattoo. You look over the assembled Mustangs, 240SXs and M3s when BLAMMO you're run over after wandering into the street not paying attention. In your dying breath you look up at the car that crushed you and utter "wow that Z3 has aged pretty well."
And right you were! The BMW Z3 has aged pretty well. It's a handsome car.
It's a little cartoony in its proportions, sure, and the details are pretty dated. It's not a car that anybody can own. That's what the BMW 3 Series is for.

What it means is that the Z3 has become a kind of ignored car. Maybe you remember it every so often. Maybe you think about it when you're falling asleep. But you're probably not really imagining yourself in one.

Maybe you should. Maybe you should imagine yourself in one. Maybe you should imagine yourself in an M roadster, putting your foot to the floor and letting that 3.2 liter inline six ring out.

Did you know that old old Top Gear declared the M Roadster a better handling car than the Ferrari 360 Modena, with current Subaru factory driver Mark Higgins at the wheel? They said the BMW was the more predictable and enjoyable car.
Did you know that we put the BMW M Coupe, the infamous clownshoe, in the Jalopnik Fantasy Garage all the way back in 2007? We did. It's good. It's weird, but it's spacious and wonderful and good.