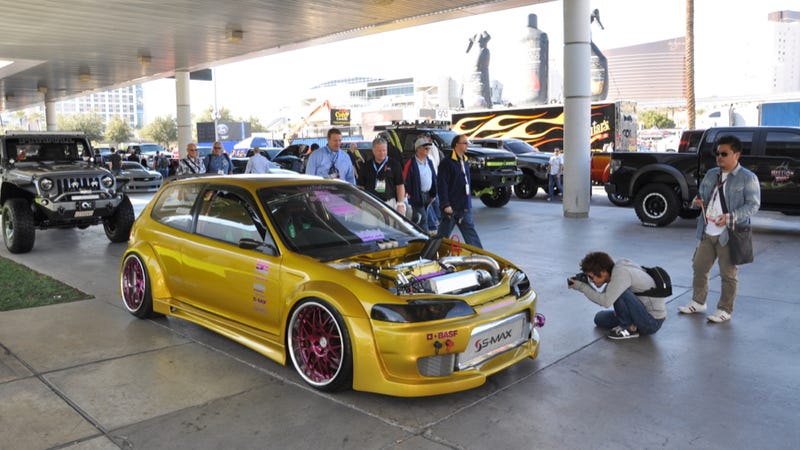 Pink wheels. Bad paint. Crazy customs. Tucked-in T-shirts. Scene kids. Buyers. Exhibitors. Capital-M Media. SEMA is a nexus for the aftermarket, and all that that entails. It can be vulgar, it can be crass, it can be revolting and amazing all at once. And there's a very good reason for all that: money.
I spent three days at the annual Special Equipment Market Association Show in Las Vegas this week. Three days of pounding the cavernous, maze-like convention halls. Three days of waiting for shuttle busses. Three days of bad convention food. Three days of examining what seems to be a netherworld that most of the car-driving public never encounters. I did my best to learn what makes it tick, to see why it exists, and to understand the beast.
If you wonder why we here at Jalopnik spend so much thought trying to figure SEMA out, it's because it's an auto show unlike any other. If you go to the Detroit International Auto Show or the New York International Auto Show, it's all pretty standard. Every manufacturer brings a stand or two, they have all of their offerings on display, and maybe even a few concepts. The general public pays way too much to attend, but you get to see more cars under one roof than you would normally. The big guys get to sell to you, and you get to be sold to.
There's something for everyone at those big shows. High-end offerings for the enthusiast, and basic point-to-point transport for everyone else. Standard issue, really.
SEMA is entirely different. It is closed off to the public, for one, and despite its attendance of 130,000 people it can actually be quite difficult to gain admission. Nothing seems to make sense there, either. On the surface, it's a disjointed mashup of all that is unholy.
There's an old Gene Simmons with a sad Ford truck. There's a 1,000 horsepower stanced minivan. There's a Toyota Highlander with a goddamn fishtank in it that's been completely roped off while beside it sits an unassuming Camry that's been turned into a rally car that nobody seems to care about.