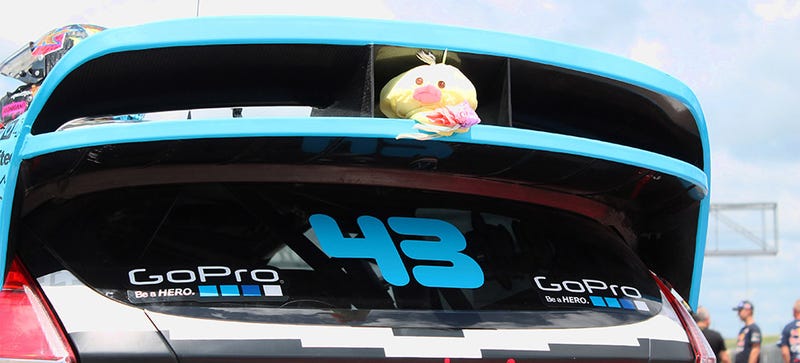 If Portland's going to totally rip off "Keep Austin Weird," I'm going to put a bird on things. Rally Chicken, to be exact. And by "things," I mean the entire Global Rallycross paddock at the X Games. Rally Chicken's a dirty, dirty bird.
Thursday, Ford held a media preview event to let us tinker with a few of their new production vehicles and give us a tour of the Olsbergs MSE Global Rallycross and GRC Lites paddock.
Team Principal Andreas Eriksson was a gracious host and showed us around the GRC paddock as the team was performing service after the first practice of the X Games weekend.
Carbon fiber bodies? 560 bhp and stupid amounts of torque? The ability to go sideways whenever you darn well please?
Suspension travel that would make the chunked-out travesties the northeast calls "roads" bearable?
Yes. Yes, please. Do want.
So, naturally, Rally Chicken sat on a few of these cars.
Blame the presence of a boyfriend whatchamacallit for the fact that my stuffed bird is "Rally Chicken." He, while teaching a NASA Rally Lab last year, noticed Fluffy Bunny as I was about to stick it in the back seat of my loaner beater for the day.