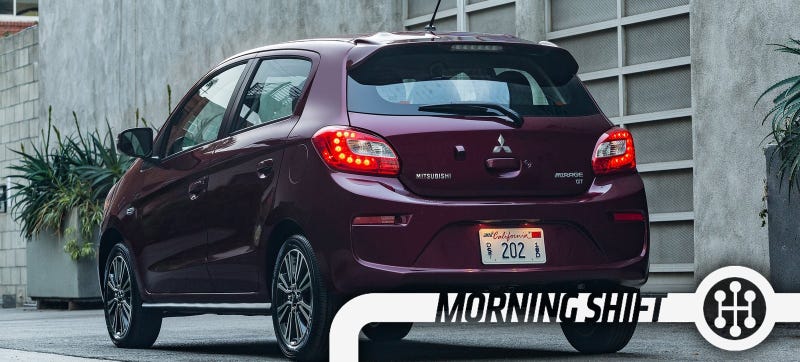 Good Morning! Welcome to The Morning Shift, your roundup of the auto news you crave, all in one place every weekday morning. Here are the important stories you need to know.
You'll have to forgive the unusual lateness of TMS. There was some confusion over who was actually writing it today!
1st Gear: Mitsubishi Is Screwed
Ne'er-do-well automaker Mitsubishi is embroiled in an "existential crisis" following revelations that it's been cheating on fuel economy tests by screwing with tire pressures for decades now. And according to Reuters, two Japanese daily newspapers reported that Chairman and Chief Executive Officer Osamu Masuko intends to resign, as does President and Chief Operating Officer Tetsuro Aikawa.
But Aikawa denied those reports today. Reuters again (via Automotive News):
Mitsubishi Motors COO Tetsuro Aikawa today denied Japanese media reports that he and CEO Osamu Masuko plan to resign over the Japanese automaker's manipulation of fuel economy data. Aikawa added that he had "absolutely no plans" to pull out of the automotive market.

The scandal has halved the company's market value in a week.

"It's my responsibility and my mission to put the company on track to recovery. Beyond that, I haven't had a chance to even consider" the possibility of resigning, Aikawa said, calling the reports "based on speculation."
Either way it's bad news for Mitsubishi, which just 15 years ago was embroiled in another scandal over ignored customer complaints.
2nd Gear: Daihatsu Has Not Cheated, Says Daihatsu
The big question on my mind throughout MitsuTireInflateGate (You like that? I'm gonna try and get it trending on Twitter), as well as yours I'm sure, has been this: Is Daihatsu cheating as well?

No. No they are not, says Daihatsu. Again via Reuters:
"No," senior managing executive officer Noriyoshi Matsushita told reporters when asked whether Daihatsu could have similar issues. "Of course we are complying with regulations."
Whew.
3rd Gear: Ford Recalls 285,000 Vehicles
For all sorts of problems, including transmissions that shift into first at high speeds (ouch), poor welding and damaged tires, reports Automotive News:
The largest of the recalls covers 201,900 F-150s, Mustangs, Expeditions and Lincoln Navigators from the 2011 and 2012 model years. On those vehicles, Ford said a problem with the output speed sensor on the transmission's lead frame could force a temporary downshift into first gear, which at high speeds could cause the rear tires to slide or lock up.

Ford said it knows of three accidents but no injuries caused by drivers losing control of their vehicle when that happened. Dealers are being told to update the powertrain control module software and, if a diagnostic trouble code is present, to replace the lead frame. For vehicles without a trouble code, Ford will provide a one-time replacement of the lead frame within 10 years or 150,000 miles from the warranty start date.
4th Gear: Apple's Not Making A Car. Or Are They?
I do not think the Apple Car will be a thing you can actually buy. If it's a production car at all, it will be some kind of ride-sharing vehicle, but more than likely it will just be a testbed for Apple's future products and software in existing cars.
That's what Richard Windsor, an analyst at Edison Investment Research, is quoted in Bloomberg as thinking too:
Selling automobiles would be "catastrophic" for Apple's valuation, Windsor said, as the margins are nowhere near the 40 percent gross profit margins Apple earns on the iPhones, iPads and other products. Since carmakers sometimes make no money on the vehicles they sell, earning profits instead from the financing they provide to customers, Windsor said that such margins on a car, even one with an Apple badge, look hopelessly unobtainable.

"How can you make 40 percent gross margins on pressed steel, wheels, brake pads and seats when the others who are buying all these things in much greater volume can't do it?" Windsor said in an interview. "It's just not feasible."

[...] Windsor said that while he has no doubt Apple is trying to build cars, including a self-driving model, he believes it's doing so primarily as a way to learn about the evolving auto industry and how its existing suite of "infotainment" products - and the valuable data they gather about users — can be integrated into cars.
Most likely.
5th Gear: Big Investments At GM
The former Saturn plant in Tennessee is getting a large injection of cash, reports The Detroit News:
General Motors Co. said Wednesday that it will invest $788.7 million at its Spring Hill, Tennessee, manufacturing complex for a new engine program, creating 792 new jobs and retaining 16.

The Detroit automaker also announced it will invest $118 million at its Bay City Powertrain plant, creating 29 jobs and retaining another 67 people.

GM said some of the investment at Spring Hill, a former Saturn plant, will be used to modernize vehicle programs in the factory. Construction is expected to begin next month and last several years.

"UAW members at Spring Hill and Bay City have well-earned reputations for quality work and craftsmanship," UAW Vice President Cindy Estrada said in a statement. "Since the 2015 collective bargaining agreement, GM has invested more than $1.7 billion and UAW-GM members, their families and their communities will all benefit for years to come."
Reverse: RIP Pontiac